Dorothy Price
Dorothy has been a yoga practitioner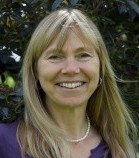 for over 35 years and completed her Yoga Teacher Training at the Salt Spring Centre of Yoga in 2002. Dorothy is a senior teacher at the Centre and is also a teacher for the Centre's Yoga Teacher Training Program. She teaches many weekly all levels classes on the island, as well as weekend yoga retreats and annual retreats in Mexico and Italy. Dorothy's teaching style includes sustained as well as flowing postures, with the aim of cultivating mindfulness through alignment and breath. Core strengthening and core awareness are an integral part of her classes. Her compassion for her students and her deep love of yoga are apparent in her classes.
Cathy (Arpana) Valentine
Cathy has dedicated her life
to the practice of yoga, to teaching yoga, and to living with truth and presence in every moment. She has been teaching Vijnana yoga since 1999.
Jennifer (Shanti) Collver
Jennifer has been practicing Yoga since 1973,
and completed her teacher training at the salt Spring Centre of Yoga in 2007. She went on to obtain certification as a restorative yoga teacher in 2008. She has for the past 26 years lived on a small farm, raising animals for fibre which she spins and weaves. This simple lifestyle allows her to offer her classes in the spirit of karma yoga for little or no money. Jenny obtained her 500 hour certification in 2013 from from Cathy(Arpana) Valentine's Yoga Apprenticeship.
Rebecca Grim
Curiosity is what brought Rebecca
to her first yoga class. That curiosity marked the beginning of an ongoing journey for the practice of yoga and a strong desire to continually deepen that relationship. Exploring the movement of the body and the breath has been an essential in her life. Rebecca has apprenticed with Cathy Valentine for two years and has been awarded a 500-hr teacher training. She continues to study asana, pranayama, mediation and philosophy.
Clare Blanchflower
Clare has been a
practitioner of yoga since 1996 when she found herself drawn to the devotional practices and community at the Sivananda Ashram in London, UK. She is a grateful graduate of the SSCY YTT (2009) and a regular member of the centre sangha. She teaches Awakening Body – Yoga of Non-Dual Awareness. She also shares satsang privately and in groups speaking from all inclusive non-dual awareness, offering a simple invitation to realize the reality of Self in present moment awareness. She is committed to truth and service and teaching is a joyful celebration.
Catherine Howe
Catherine has been
practicing yoga since 1998 and has completed her 500 hour yoga teacher training with Cathy Valentine. She has found clarity, ease and joy through her yoga practice and hopes to share the same in her classes.
Marianne Butler
Motivated by a love
of movement and a craving for peace, Marianne has been practicing Yoga regularly since 2009. Drawing on her experience of a rich variety of styles and teachers, she encourages her students to develop internal awareness as they move and breathe through carefully designed sequences. She completed her 200hr Hatha Yoga Teacher Training and an advanced workshop in Sequencing with Joy Morrell, a teacher with a passion for anatomy and a wide open heart.
Marianne came to the Salt Spring Centre in 2014, where she's studied and taught asana and pranayama, as well as exploring the practice of Karma Yoga through serving in Programs Management. Continuing to deepen her practice, Marianne is currently undertaking Cathy Valentine's Vijnana Yoga Apprenticeship.
Arpita Rose
Arpita
has been part of the Salt Spring Centre sangha since before she was born, and has been practicing yoga herself since 2008. She received her 200 hr certification from SSCY in 2009 and has been teaching regularly since 2010. In 2013 she explored a 50 hr training in yoga for women with Sara Avant Stover, and has informally studied trauma sensitive yoga through Quest University Canada since 2013. Her classes include meditation, pranayama, asana, breath focus, and mindfulness. Combining hatha and yin, her classes include strengthening, vitalizing movement as well as grounding, deepening body inquiry.
Piet Suess
Piet believes
in asana for self inquiry and body awareness. His methods involve a focus on alignment and exploration using the breath and attention.
A life-long yogi, Piet has been part of the Salt Spring Centre community since he was 2 years old and is now acting as the Interim Centre Manager.
Robert Prince
Robert has been practicing yoga for most
of his life and teaching for over 10 years. He has over 800 hours of yoga training starting in 2005, with his vinyasa flow training, then Yin yoga training with Bernie Clarke and most recently a 300hr apprenticeship, with Cathy Valentine, as well as various other influences in between. Robert encourages his students to work within their own level and gives modifications during classes. Students are encouraged to explore and discover their practice for themselves from the inside out.