Dorothy Price
Dorothy has been a yoga practitioner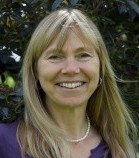 for over 35 years and completed her Yoga Teacher Training at the Salt Spring Centre of Yoga in 2002. Dorothy is a senior teacher at the Centre and is also a teacher for the Centre's Yoga Teacher Training Program. She teaches many weekly all levels classes on the island, as well as weekend yoga retreats and annual retreats in Mexico and Italy. Dorothy's teaching style includes sustained as well as flowing postures, with the aim of cultivating mindfulness through alignment and breath. Core strengthening and core awareness are an integral part of her classes. Her compassion for her students and her deep love of yoga are apparent in her classes.
Cathy Arpana Valentine
Cathy has dedicated her life
to the practice of yoga, to teaching yoga, and to living with truth and presence in every moment. She has been teaching Vijnana yoga since 1999.
Jennifer Collver
Jennifer has been practicing Yoga since 1973,
and completed her teacher training at the salt Spring Centre of Yoga in 2007. She went on to obtain certification as a restorative yoga teacher in 2008. She has for the past 26 years lived on a small farm, raising animals for fibre which she spins and weaves. This simple lifestyle allows her to offer her classes in the spirit of karma yoga for little or no money.
Cate McEwen
Cate has been practicing yoga
since the turn of the century, a certified teacher since 2010. Her Mixed Levels class is a blend of breath work, flow sequence, and focus on specific poses or areas of the body, offering modifications.
Robert Prince
Robert has been practicing yoga for most
of his life and teaching for over 10 years. He has over 800 hours of yoga training starting in 2005, with his vinyasa flow training, then Yin yoga training with Bernie Clarke and most recently a 300hr apprenticeship, with Cathy Valentine, as well as various other influences in between. Robert encourages his students to work within their own level and gives modifications during classes. Students are encouraged to explore and discover their practice for themselves from the inside out.
Kris Cox
Kris started 'dabbling' in yoga in 1998 but her practice really started in 2006. Receiving her teacher training from Kevin Elander and Hart Lazer, her focus is on alignment, breath and stability to create grace and strength. She encourages her students to practice, try, tip over, try again, smile, play and laugh in her classes.
Ne'ith Arrow
Ne'ith has over 15 years experience with energy healing, alchemy and shamanism. She adopted Dao Yin Zhi Dao Qi Gong, the Way of Cultivating Awareness, two years ago as an excellent complement for those interested in healing themselves and helping others.
Carol Barteaux
Carol began her exploration of Yoga somewhat by accident, while studying acting at The William Davis Centre in 1996. It was through breath and movement classes that had a strong foundation in yoga. Soon she discovered its origin, and power to help her in dealing with major life events, and overcoming depression and addictive tendencies. Carol spent 7 years studying, training, and working at Kripalu Centre of Yoga, completing her 500hr Kripalu YTT and 300hr Ayurvedic Yoga Specialist certifications. Carol has taught yoga at The Yoga Farm in Costa Rica and the Salt Spring Centre of Yoga, has completed a Diploma in Community Counseling and worked as a Mental Health Professional in Vancouver. Carol loves to dance, sing, jump in crazy cold water, and play in nature. She continues to be a student of life, riding the waves with a tender open heart, a wicked sense of humour, and a curiosity for Truth.