Shankar's December update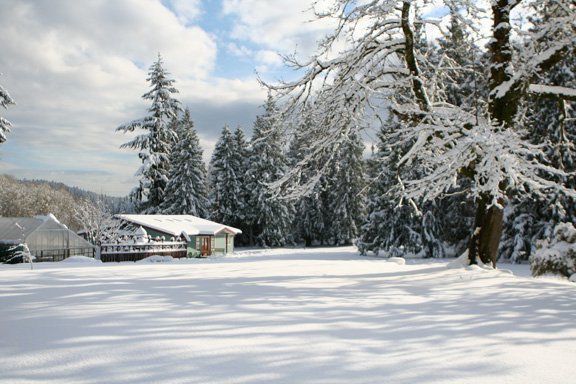 Greetings:
Déjà vu. The power went out just hours before guests arrived for the last Yoga Getaway of 2011. Last year's final program, the KY celebration in November, was blessed with a heavy snowfall and power outage just after everyone arrived. With the help of our old generator we powered all essential services, and the extreme weather helped bring everyone together for what turned out to be a memorable weekend. This November the generator lasted only an hour or so despite valiant efforts to keep it alive. No electricity means no water in the program house. We had readied buckets of water just in case they were needed, but all went well. The cooks, wearing headlamps, prepared a delicious meal which the guests ate by candlelight. The sauna was cancelled due to lack of water and there was an intimate atmosphere at the candlelit evening circle. Fortunately, as the circle ended the power came on and the staff were spared the stress of an overnight period without water or heat. Interestingly, we had just ordered a new, much larger generator, which will be installed in mid-December. This should mean that we can continue with minimal inconvenience through prolonged power outages, which, if we are to believe the experts, will be more frequent in the years to come.
Programs for 2011 are finished and staff are busy planning for 2012. We have already received eleven applications for the 2012 Yoga Teacher Training program, compared to only one at this time last year. If you are considering registering for this life-transforming program, don't leave it too late as we have room for only forty students. This is also a good time to apply to spend time at the Centre as a karma yogi. Three Karma Yoga Service and Study sessions are offered for 2012. As well, we are taking applications for full season positions in the kitchen and on the farm. Those selected for the kitchen positions will learn all aspects of vegetarian cooking skills while spending a day a week on the farm to keep in touch with the source of the food. Farm positions offer a wonderful opportunity to spend a full growing season learning the increasingly important skills of food production.
Many of you emailed appreciation for last month's profile of Sharada Filkow. Continuing our appreciation for long time members of Dharma Sara, this month we profile Lakshmi McPhee who, for decades, has been at the heart of a variety of DS activities. Many of you will know her as the coordinator of our annual summer retreat. It's ironic that she hitch-hiked, with infant Sean (now 36 years old), to our first retreat without even knowing where it was!
As the year comes to a close we express heartfelt thanks to the many volunteers, teachers, students and guests who have continued to support the efforts of the Centre during 2011. Please consider us if you are contemplating charitable donations at the year's end. Your contributions to the Centre and to the Sri Ram Ashram will help these invaluable organisations to continue to offer yoga and community to so many.
We wish you a joyful, peaceful holiday period and hope to see all of you in 2012.
Shankar