YTT Reflections: Craig Stewart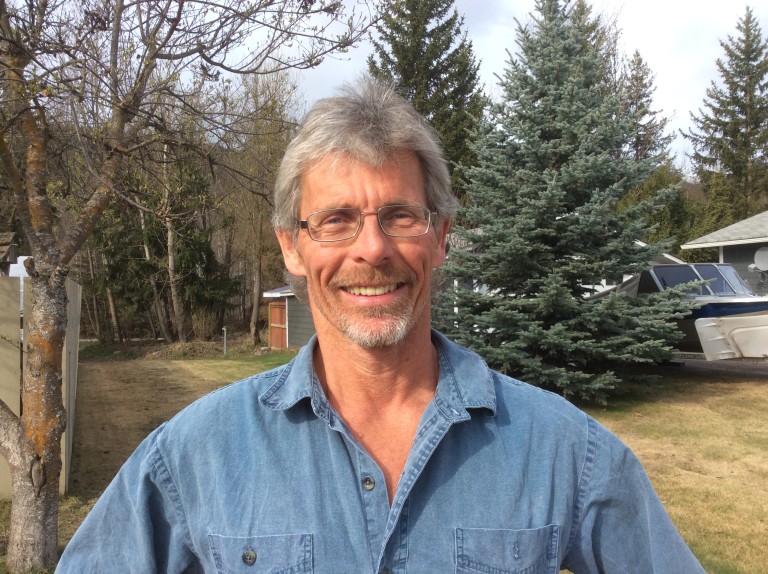 Where do you live? What do you do in your life apart from yoga?
Since 1991 I have resided in Smithers, B.C. as a practicing geoscientist with the BC Ministry of Environment. I left that position in July 2015 and although I'm technically "retired", I feel more like I have just started a new career pursuing various other interests and passions. My time is taken up by a multitude of interests and activities, from hiking, biking, skiing, kayaking and hockey, to learning piano, playing guitar, gardening and volunteering. I'm really enjoying not having a prescribed schedule all the time, and appreciating the time to reconnect with other aspects of my personality.
What motivated you to begin practicing yoga? How did yoga come to be part of your life?
Yoga intrigued me many years back for its grace, beauty and physicality. I will also admit it didn't hurt being the only male in the class! I dabbled in yoga sporadically, and quickly noticed the benefits in terms of flexibility and strengthening. It was after a hip injury from playing squash that I seriously took to the mat to improve strength, flexibility, balance and body control. I could no longer ski, skate, run, golf or do many of the activities I loved and there seemed to be no solution. I knew that yoga had been generally helpful overall, so I turned to it to help improve my hip and to provide the physical activity from all of the activities I could no longer comfortably do. It seems to have worked as I am back doing pretty much everything as before. My hip will never be what it was, but I feel stronger, fitter and I think many of the activities I pursue have been greatly improved by my practice. I have also met many wonderful people through my practice. My biggest challenge is making my practice consistent, as it really is something that needs to be continually cultivated.
What attracted you to the SSCY YTT program?
Upon deciding to take the 200hr course, basically to improve my personal practice, I started hunting around for locations. The exotic ones appealed greatly to me….a Greek Island perhaps? Looked pretty nice…but I really wanted to have a total immersion to focus on the learning and completing the course. My main instructor in Smithers turned out to be a SSCY YTT alumni and said I would love going there, so I checked it out. Given that there is a three week break in the middle and I did not want to come home in that time, my being in the Vancouver Island area allowed me an opportunity to stay down there the whole time and save on the travel hassle. So logistically it made a lot of sense and turned out to be a great benefit, adding to the whole experience of the summer. The program layout, teacher reputation, immersion aspect (staying onsite), the high recommendation and the allure of Salt Spring Island made it a perfect choice. I may still get to Greece though, or Italy, or Costa Rica, or….
What aspect of yoga has had the most transformative effect on your life?
Pause for thought here to try and picture the before and after….
On the physical level I feel stronger and more attuned to myself. At a more subtle level I feel I am becoming a better person and believe more strongly in my life path and choices. I feel a better energy within and I think send better energy to the outside world as well. Yoga has been reaffirming to many critical aspects of who I am while also introducing me to new thoughts and ways of being. It has made me more aware of conversations, energies and what I want to be around. For example, by being attuned to negative energies from others or myself, I can try to influence them in a more positive manner. Definitely not everything is perfect and likely never will be, but my awareness level has definitely increased. It has certainly influenced how I want to be as a person.
Specifically from the course, the breath connection was a large revelation and I have added Pranayama to my practice; it's an area that I was not really aware of or interested in. This quite surprised me, but I find it very enjoyable and beneficial on all levels.
Actually guiding classes has been a big step – just being able to do it for one. I realize how hard but enjoyable it is and appreciate my instructors even more. And the biggie: noticing how much of a difference can occur to a student's day, energy, mood, and attitude from attending a class. It is a remarkable feeling to help someone transform their energy over the length of a class and notice/hear the incredible positive changes that have occurred from their being in the class.
Please share some memorable moments – or a favourite moment – from YTT.
There were so many unforgettable moments: the amazing final talent night, the funky final dance with a billion stars in the night sky to the accompaniment of croaking frogs that drowned out music and thought, the emotional closeness shared, the food (with the odd side trip for necessities such as coffee and chocolate), the wonderful helpful staff, music in the Pond Dome, caring and thoughtful instructors, so much humour, gentleness, learning people's stories, meaningful conversations, overcoming challenges…..and the difference between the first half and the second half. Transformation for sure.
What can students expect from the Yoga Teacher Training at the Centre?
YTT students can expect to spend time with students, teachers and staff in a wonderfully relaxed and peaceful setting. The long days, substantive subject matter, and close proximity to a group of like minded but very different individuals can test their comfort zone and individual boundaries. The time spent together creates a wonderful intimacy to share and learn about one another, creating wonderful experiences and memories. Learning the hows and whys of the journeys that led students, teachers and staff to the centre was amazing and I think provided a basis for more personal openness throughout the course and beyond. The classes will test their belief system, openness, willingness to experiment, and how they deal with failures and successes. The course changed my perspective of yoga and my personal practice; it has given me permission to have a gentler, kinder, more meaningful practice.
They will gain from hearing people's stories, observing incredible hidden talents, watching people change over the duration of the course, personal surprises, releases of all kinds (physical and emotional) and many subtle things that won't really be noticed until after the course is completed.
And there will be lots of fun, laughter and enjoyment!!!
Do you have any favourite quotes?
"Teach to Learn"….so true.
When I initially decided to attend YTT I had no interest in teaching. As the course advanced, and after some positive interactions with students and staff, the thought of teaching (although I prefer to use the term guiding) started to creep in. Upon my return to Smithers, I tested it out on some friends over 10 karma classes, and found that it seemed to work out – they came back and signed up for more – and paid! So I have led classes since and will do so in the future, slowly learning and building a repertoire of knowledge.
Back to the quote. As soon as I decided to lead classes, the emphasis on knowing what I was doing became rather important. The act of doing my own practice vs. demonstrating and explaining a class in a clear, succinct, comfortable manner for students of various skill levels, are very different. Suddenly, the way I looked at my practice changed considerably. I realized I had to learn so much more, (YTT is just the start) in terms of mechanics, vocabulary, sensing the class dynamics, class structure, atmosphere and a myriad of other things. Now when I attend a class, I pay very careful attention to the sequencing, the lead in, languaging and other aspects of the class to find those things that resonate with me and that are effective. "Teaching" brings out your preferences, your style, your personality and you learn more about yourself as a person. I believe I get as much or more back from teaching the class than I impart.
In addition, the fact that "Teach to Learn" spawned an outstanding rap tune at our final talent night sealed the deal, making it the most memorable quote!!!
For information about the Salt Spring Centre of Yoga's YTT program, visit: