Thank you!
Thank you to everyone who attended the 2022 Annual Retreat.
Please check back in Spring 2023 for information about next year's retreat!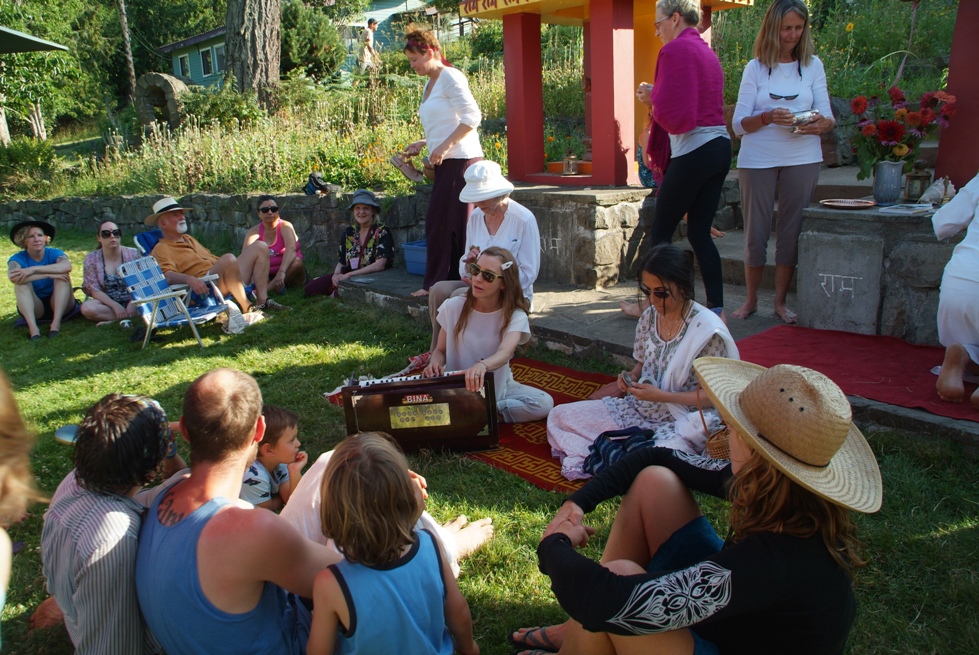 The family friendly yoga retreat you've been waiting for July 29 – August 1.
Come re-ignite the spark for 4 days at the magical Salt Spring Centre of Yoga.
Come and connect with new and old friends surrounded by nature, a supportive community and deeply nourishing lacto-vegetarian meals. We have an extensive children's program so everyone can reflect and renew through the timeless practices of yoga.
Our experienced and knowledgeable elders and teachers provide connection and instruction across all 8 limbs of yoga including purifying cleansing practices, breathwork, meditation, philosophy, and of course movement and posture classes.
You can sing, chant, and participate in ceremony. You can rest, play, and go for forest walks. It's up to you!
Either way, you can be assured that your time will be rich with practice and connection.
Register early to avoid disappointment! Spaces are limited. We require all attendees to pre-register online.
Registration
Registration for the 48th Annual Community Yoga Retreat is now closed.
Free Events
Everyone is welcome to attend the following retreat activities at no cost.
Satsang – Sunday, July 31 at 12:30 PM
Latte Da Talent Show – Sunday, July 31 at 7:00 PM
Yagna – Monday, August 1 at 9:00 AM
There is no pre-registration required to attend the above events. If you are planning to stay for a meal, please see the meal ticket information below.
Meals
If you would like to purchase a meal ticket, please arrive at least 30 minutes to an hour before the meal starts. Limited tickets available.
All meal times are listed on the schedule below.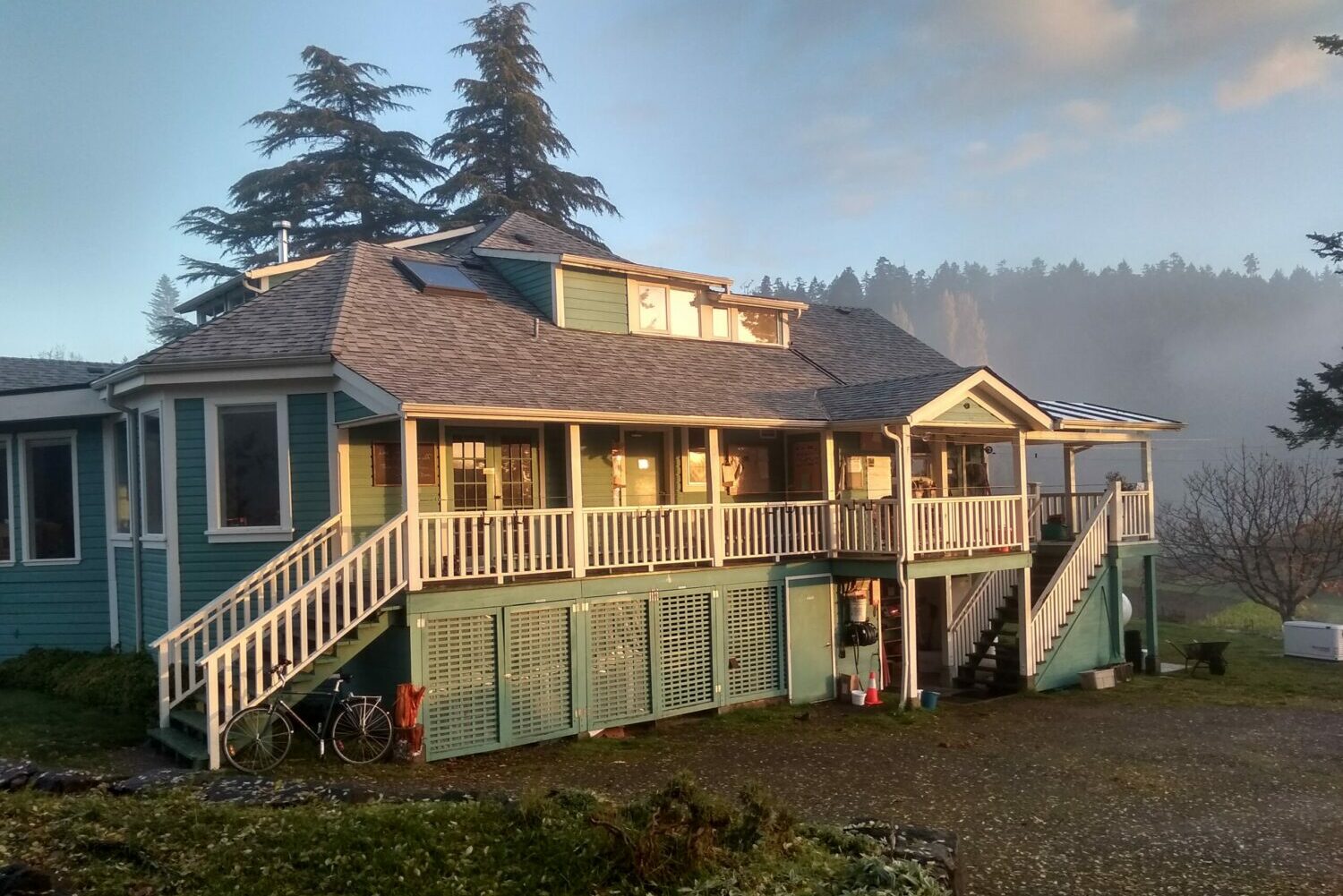 Plan Your Stay
This year, Annual Community Yoga Retreat attendees can choose between 3 types of registration:
Full Retreat + Accommodations: Friday – Monday (4 days, 3 nights)
4-Day Passes (no accommodations): Friday – Monday (4 days)
2-Day Passes (no accommodations): Saturday – Sunday only (2 days)
Note: The Salt Spring Centre of Yoga cannot guarantee a 100% nut-free environment.
Full Retreat &
Accommodation package
Friday to Monday (3 nights / 4 days)
Includes camping, admission, meals & GST
| Category | Price |
| --- | --- |
| Adults - Indoor room* | Starting at $622.34 / adult |
| Adults - Camping | $402.29 / adult |
| 12 - 17 years old** | $333.90 / child  |
| 9 - 11 years old** | $315.00 / child  |
| 3 - 8 years old** | $168.00 / child  |
| Under 3 years old** | Free |
*Indoor accommodations are limited
**There is no charge for children to camp with the adults in their party (must be accompanied by an adult)
REGISTER NOW: Adults only – Full Retreat & Accommodations
4-Day Pass,
no accommodations
Friday to Monday
(Includes admission, meals & GST)
| Category | Price |
| --- | --- |
| Adult (12+) commuter | $ 333.90 / adult |
| 9 - 11 years old | $ 315.00 / child |
| 3 - 8 years old | $ 168.00 / child |
| Under 3 years old | Free |
2-Day Pass,
no accommodations
Saturday & Sunday only
(Includes admission, meals & GST)
| Category | Price |
| --- | --- |
| Adult (12+) commuter | $ 222.60 / adult |
| 9 - 11 years old | $ 157.50 / child |
| 3 - 8 years old | $ 84.00 / child |
| Under 3 years old | Free |
Schedule – Friday, July 29
| Time | Activity | Location |
| --- | --- | --- |
| 1:30 PM | Welcome Table Opens | Outside Office |
| 2:30 PM | Tea Time / Jai Store | Meal Circle |
| 3:30 PM | Kids Program | School House |
| 4:00 PM | Asana Classes | Various* |
| 5:30 PM | Arati | Ganesh Temple |
| 6:00 PM | Dinner | Meal Circle |
| 7:30 PM | Welcome & Kirtan | Pond Dome |
Yoga Class (Asana) Schedule
| Time | Class | Location |
| --- | --- | --- |
| 4:00 - 5:15 pm | Restorative YinTeacher: Ricardo | Satsang Room |
| 4:00 - 5:15 pm | Forgiveness Series with Yoga NidraTeacher: Supriya | Pond Dome |
| 4:00 - 5:15 pm | Chair Yoga for Healthy AgingTeacher: Padma | Garden House |
| 4:00 - 5:15 pm | Yin YangTeacher: Yogita | School |
Schedule – Saturday, July 30
| Time | Activity | Location |
| --- | --- | --- |
| 5:30 AM | Pad Kirtan | Through Campground |
| 6:00 AM | Arati | Satsang Room |
| 6:30 AM | Morning Routines | Satsang Room |
| 7:45 AM | Sadhana Class | Satsang Room |
| 9:30 AM | Asana Classes | Various* |
| 11:00 AM | Brunch | Meal Circle |
| 1:00 PM | Board Meet & Greet | On the Mound |
| 2:30 PM | Tea Time & Jai Store | Meal Circle |
| 4:00 PM | Asana Classes | Various* |
| 4:00 PM | Ayurveda Talk | Garden Madonna |
| 5:30 PM | Arati | Garden Madonna |
| 6:00 PM | Dinner | Meal Circle |
| 7:30 PM | Ramayana | Latte Da Stage |
Yoga Class (Asana) Schedule
| Time | Class | Location |
| --- | --- | --- |
| 9:30 - 10:45am | Deep Connection Lines/Least EffortTeacher: Lyndsay (CP) | Satsang Room |
| 9:30 - 10:45am | Dragon Power FlowTeacher: Anilā | Pond Dome |
| 9:30 - 10:45am | Yoga & Ayurveda for Regeneration (Kapha Balancing)Teacher: Jyoti | Garden House |
| 9:30 - 10:45am | Slow FlowTeacher: Yogita | School |
| Time | Class | Location |
| --- | --- | --- |
| 4:00 - 5:15 pm | Sun & Moon SalutationsTeacher: Diana | Satsang Room |
| 4:00 - 5:15 pm | Yoga Therapy Stress ReductionTeacher: Chetna | Pond Dome |
| 4:00 - 5:15 pm | Forest BathingTeacher: Tahia | Pond Dome (starting point) |
| 4:00 - 5:15 pm | Ashtanga Primary series as taught within the Mysore TraditionTeacher: Suchitra | Garden House |
| 4:00 - 5:15 pm | Slow Gentle Flow & Restorative RestTeacher: Gita | School |
Schedule – Sunday, July 31
| Time | Activity | Location |
| --- | --- | --- |
| 5:30 AM | Pad Kirtan | Through Campground |
| 6:00 AM | Arati | Satsang Room |
| 6:30 AM | Morning Routines | Satsang Room |
| 7:45 AM | Sadhana Classes | Satsang Room/Pond Dome |
| 9:30 AM | Asana Classes | Various* |
| 11:00 AM | Brunch | Meal Circle |
| 12:30 PM | Satsang | Latte Da Stage or Pond Dome |
| 2:30 PM | Tea Time & Jai Store | Meal Circle |
| 3:30 PM | Yoga Sutras | Garden Madonna |
| 3:30 PM | Asana Classes | Various* |
| 5:00 PM | Arati | Hanuman Temple |
| 5:30 PM | Dinner | Meal Circle |
| 7:00 PM | Latte Da Talent Show | Latte Da Stage |
Yoga Class (Asana) Schedule
| Time | Class | Location |
| --- | --- | --- |
| 9:30 - 10:45am | Yoga Therapy NyasaTeacher: Chetna | Satsang Room |
| 9:30 - 10:45am | Nervous System Healing FlowTeacher: Anilā | Pond Dome |
| 9:30 - 10:45am | A Mala of Heart OpeningTeacher: Suchitra | Garden House |
| 9:30 - 10:45am | Dosha BalancingTeacher: Jyoti | School |
| Time | Class | Location |
| --- | --- | --- |
| 3:30 - 4:45pm | Tensegrity Series & Somatic Yoga IntegrationTeacher: Lyndsay (CP) | Satsang Room |
| 3:30 - 4:45pm | Playful FlowTeacher: Yogita | Pond Dome |
| 3:30 - 4:45pm | Slow Gentle Flow and Restorative RestTeacher: Gita | Garden House |
| 3:30 - 4:45pm | Restorative YinTeacher: John | School |
Schedule – Monday, August 1
| Time | Activity | Location |
| --- | --- | --- |
| 6:30 AM | Pad Kirtan | Through Campground |
| 7:00 AM | Sadhana Class | Satsang Room/Pond Dome |
| 9:00 AM | Asana Class | Program House |
| 9:00 AM | Yajna | Pond Dome |
| 11:00 AM | Brunch | Meal Circle |
| 12:00 PM | Closing Circle & Photo | The Mound |
Yoga Class (Asana) Schedule
| Time | Class | Location |
| --- | --- | --- |
| 9: 00 - 10:45 am | Yin YangTeacher: TBA | Satsang Room |
"I'm growing into being a better person when I confront change in healthy ways, and even welcome it into my life. The embodiment of change helps me to illuminate my shadow sides and thrive rather than just survive."