The Farm
41 Years of Regenerative Farming
The Salt Spring Centre of Yoga is located on an impeccable 69 acres of protected land zoned Agricultural Land Reserve, which makes up less than 5% of British Columbia's total land base*.
We have abundant access to farmland and produce fruits and vegetables to support the Centre's kitchen as well as the broader Salt Spring Island population. Our farming efforts vary depending on the year and the resources available to us. We do not use pesticides and never have.
*"The ALR is a provincial land-use zone where agriculture is the priority use. The ALR comprises just 5% of BC's total land base and is the area with the greatest agricultural capacity. As a finite and valuable resource, the province has decided to protect this land."
Our Goals
Our aim is that everything that happens at the Salt Spring Centre of Yoga is produced with yogic intention; programs, produce and everything in between. How we operate our farm is no exception. The most foundational yogic principle is non-harming (ahimsa). We believe in the sacred and reciprocal relationship between ourselves and the earth; we make efforts to listen to the land while we plant and allow her to help guide our efforts. All of our food is grown with the intention of peace, nourishment, and love. All organic practices are respected and used on our farmland. We also continue to acknowledge the experience and contributions of all humans and other living beings who play a critical role in growing healthy plants and harvests.
Food Grown for the Body and Soul
The farm at the Salt Spring Centre of Yoga's main activity is to produce organic fruits and vegetables to be prepared in the kitchen for all of our program participants, personal retreaters, and our on-site community.
Farm Stand
Starting in spring 2022, the Centre will be offering our fresh produce at our beautiful farm stand from Thursday at 2:30 pm to Sunday at 4:00 pm during the growing season. (No produce for sale from Monday through Wednesday.)
Payment Methods
Like many of our Salt Spring neighbours, our farm stand uses the honor system and customers may pay with cash or via e-transfers.
Produce we grow and hope to harvest throughout the season:
Vegetables
Lettuce
Kale
Chard
Beans
Carrots
Beets
Specialty greens (cress, mustard, bok choy)
Tomatoes
Eggplants
Peppers
Zucchinis and Patty Pans
Winter Squashes
Pumpkins
Broccoli, Cauliflowers (weather dependant)
Fresh Herbs (cilantro, parsley, basil)
Fruit
Cherries
Raspberries
Blueberries
Blackberries
Plums
Apples
Kiwis
Pears
We may also have occasional offerings of cut flowers and bouquets.
Investing in a self-sustaining future
The Salt Spring Centre of Yoga is five years into fostering an incredible food forest.
What is a food forest, you ask? It is a garden modelled after a natural forest ecosystem that produces a wide assortment of crops all while enriching the soil & providing habitat.
The early stages: sun-loving vegetables, berries & herbs are cultivated while fruit & nut trees get established. As the trees mature, the yield shifts to Walnuts, Sweet Chestnuts, Apples, Plums & shade-tolerant understory species such as Mulberry, Currant, Elderberry & Hazelnut.
The food forest also produces its own fertilizer! Some of the trees & shrubs are grown for their ability to produce large amounts of nitrogen-rich biomass that we cut and use as mulch around our fruit & nut trees. In this way, we can speed up the time it takes for a food forest to reach maturity.
We invite you to explore our food forest on your next visit. With some advance notice, we may be able to line up a workshop or educational walk upon request.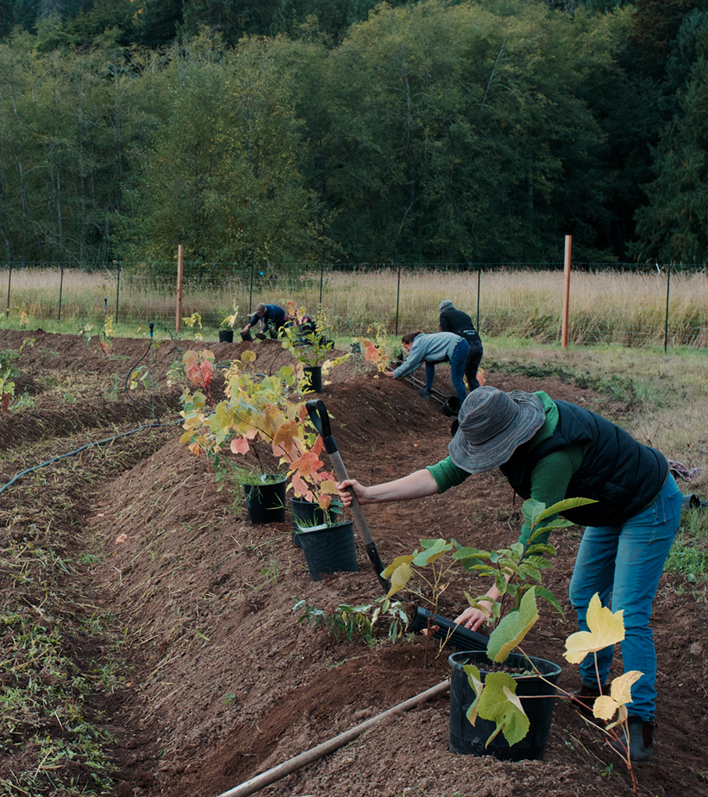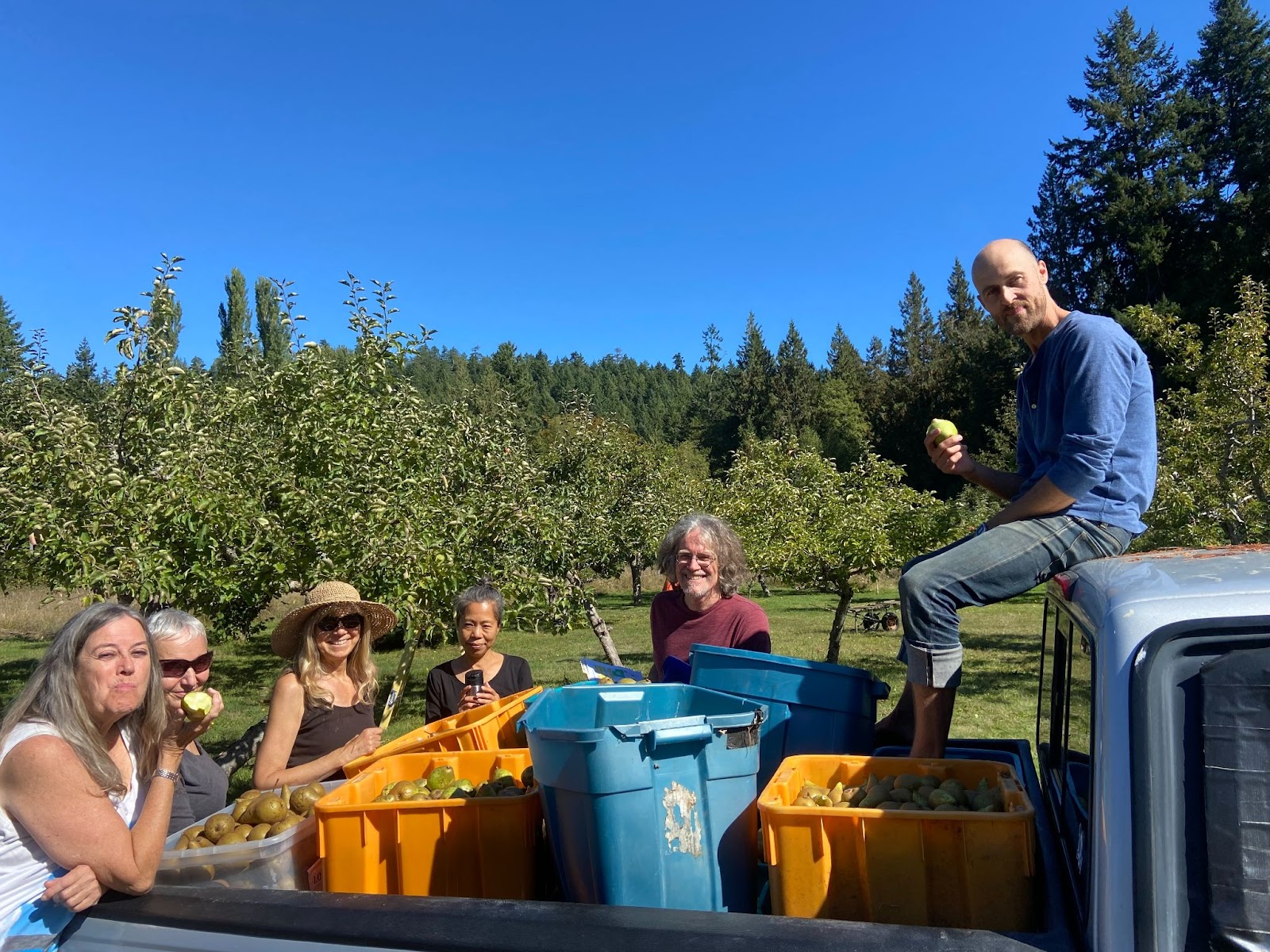 The People
The farm is under the leadership of a passionate and skilled farm coordinator and knowledgeable farm volunteers. In addition, members of different programs offered at the Centre also have the opportunity to learn and provide a helping hand in the many aspects of the farm's operations.
The work executed by the many past farmers and helpers continues to whisper to us, shape the land and influence the way the farm evolves. We are incredibly grateful for the countless hours over the past decades spent caring for the fields and for the continued donations that enable the development of the farm.
How to Get Involved
The Centre occasionally offers workshops and seminars around farming practices, our food forest, and seed saving. Please continue to check below for upcoming events.
We also have harvest work parties where you can come and have a community experience with us and share in a delicious lacto-vegetarian meal in exchange for your labour. Keep your eye on our website for work party updates and feel free to join our newsletter for more information.