Dharma Sara Satsang Society
A Non-Profit Legacy of Yoga and Service
History
Dharma Sara Satsang Society, which oversees the operation of the Salt Spring Centre of Yoga, was founded in 1974.
The name Dharma Sara means "the essence of right living", and Satsang means "act of gathering with people in truth". The Society is made up of a diverse group of volunteers, united by the common practices of Yoga as taught by Baba Hari Dass, affectionately known as Babaji.
In harmony with yoga philosophy, the Society has the central aim of fostering the search by each person to find the deep inner peace of spiritual fulfillment.
Our Mission
Dharma Sara Satsang Society, inspired by the example and teachings of Baba Hari Dass, is dedicated to the principles and practices of Classical Ashtanga Yoga. By means of Sadhana (spiritual practice), Karma Yoga (selfless service), and Satsang (supportive community), we aspire to create an environment for the attainment of peace.
Our Vision
Dharma Sara Satsang and the Salt Spring Centre of Yoga will continue to be a thriving spiritual community dedicated to the principles and practices of classical ashtanga yoga, including spiritual practice (sadhana), selfless service (karma yoga), and sacred community (satsang). We hold a strong and unified vision for progress in all key areas of endeavour, including programs, the garden, and our community life. We will offer the highest standard of instruction that helps participants develop and advance their practice of yoga. Our business model will be progressive and sustainable to allow the Centre to flourish for generations to come. Spiritual practices and selfless service will be at the heart of all activities.
Our Constitution
The purposes of the Society are:
to promote the adherence to the universal truths regarding daily living as expounded in the Sutras of Patanjali for the purpose of attaining absolute peace and unity with God, these truths being:

the restraints of non-harming, non-lying, non-exploitation, non-hoarding and moderation in all aspects of one's life;
the observances of cleanliness, contentment, self-discipline, right company, devotion and surrender to God.

to teach and promote fulfillment in all aspects of one's life;
to teach and promote the above in a universal and non-sectarian manner;
to establish a congregation and temples for the purpose of worship;
to develop the creative abilities inherent in all persons;
To establish schools, sanctuaries, and communities for the purposes of furthering the above objects;
to carry out works of a charitable nature in the community.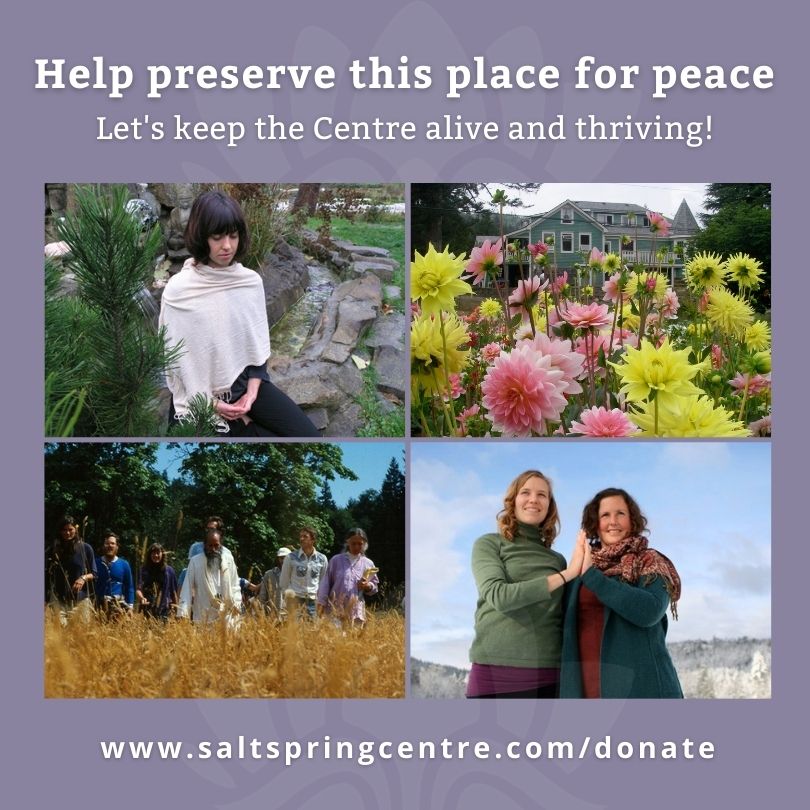 Dear Centre family and friends, The Salt Spring Centre of Yoga…

We welcome new members.
Dharma Sara Satsang Society is a non-profit organization governed by a board of directors and funded by revenue from Centre programs, private donations and general membership. At the heart of the Society is the commitment of its members to selfless service.
You will be eligible to vote at general meetings of the Society after you have been a member for ninety days. As a member, you will be helping support the Society in its mission of passing on spiritual teachings, and promoting peace.
How To Become a Member
Membership cost is $26.25 ($25 + GST) per calendar year, January to December.
You can register using the form on this page.
Alternatively, you may send a cheque payable to Dharma Sara Satsang Society along with your name, address and email address to:
Dharma Sara Satsang Society
355 Blackburn Road
Salt Spring Island, BC
V8K 2B8
Questions?
If you have questions about joining the Dharma Sara Satsang Society, please email us at membership@saltspringcentre.com.
Member Registration/Renewal Form
"*" indicates required fields