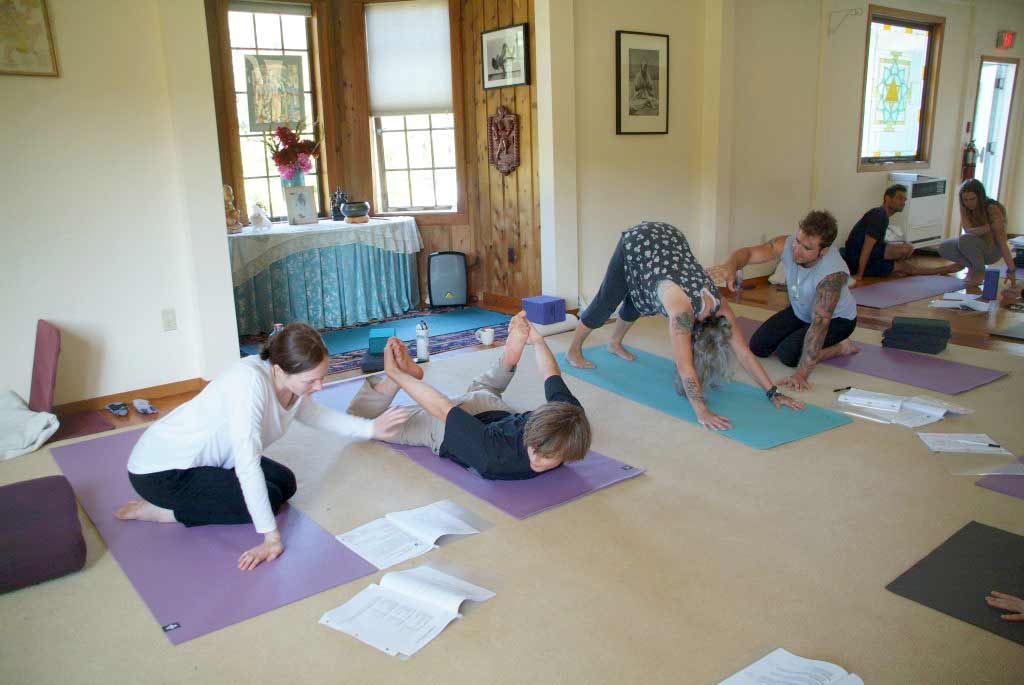 Yoga Teacher Training Schedule
Two-Part Residential Program
How to prepare for this intensive schedule
This training immerses you in the discipline of yoga with the aim of enhancing health, spiritual growth and personal transformation.
There is the initial "settling in" for the first 3-4 days of the program as each person adjusts to the new schedule, diet, sleeping quarters and study routine.
Our onsite teachers will assist those who need individual support in various aspects of the course, so that your YTT experience is empowering and uncompromised.
Prior to the training, aim to be healthy, rested and regularly practicing your yoga to fully reap the rewards of this transformational training.
Wondering if this program is right for you? Contact the Program Director Chetna (Tracy) Boyd at 250-380-9642.
"This is a very authentic program — a one-month immersion in traditional yoga practices, including meditation, pranayama and asana. The training at Salt Spring Centre of Yoga is the standard by which I would judge all other programs."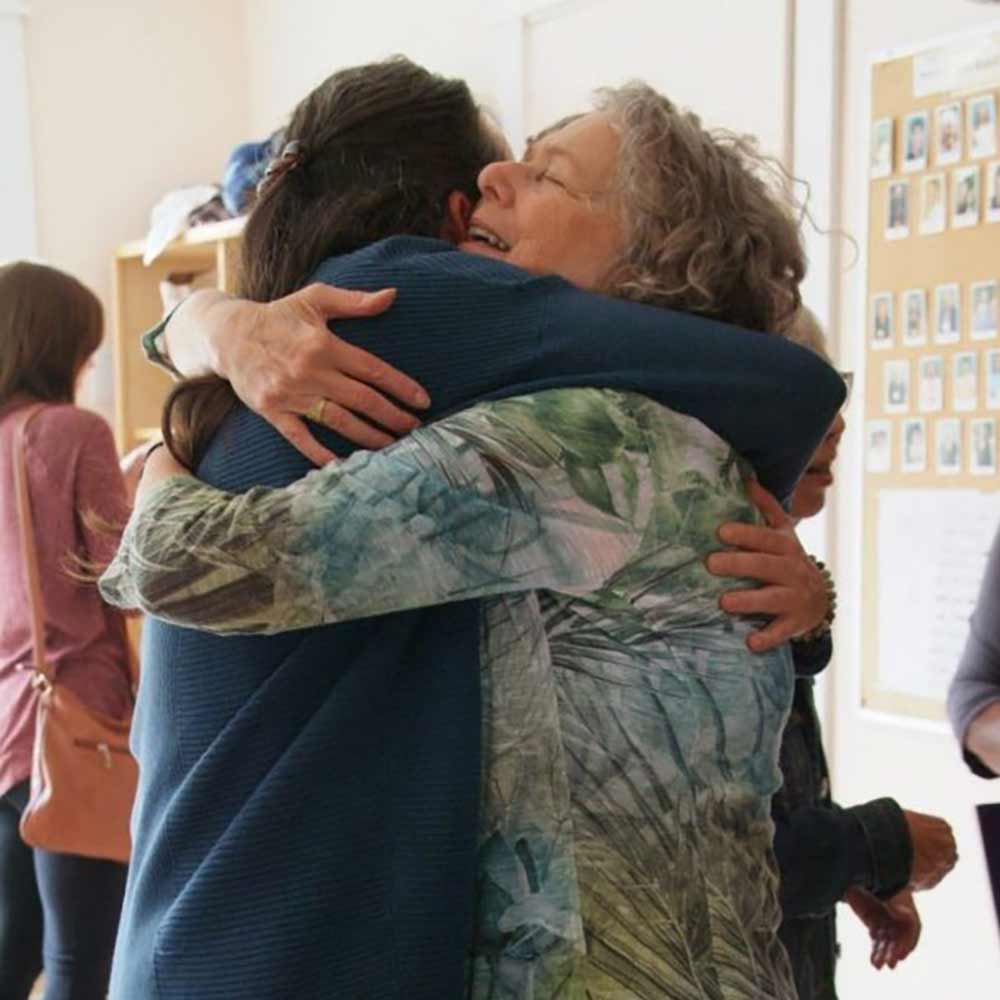 Theory
Our program provides a comprehensive explanation of classical eight-limbed ashtanga yoga and hatha yoga systems, as well as supporting studies of:
Yoga Sutras of Patanjali
Ayurveda: an introduction to this system of health care derived from the Vedic tradition (basic concepts as related to yoga practice)
History of Yoga
Subtle Body Theory
Anatomy and Physiology as they relate to Yoga
Pranayama and Meditation Theory (see pranayama curriculum)
Yoga Philosophy and Psychology
Practice
Shat Karma (internal and external cleansing practices)
Pranayama (breathing practices)
Mudras and Bandhas (energy locks)
Dharana and Dhyana (concentration and meditation as described in the Yoga Sutras)
Asanas (yoga postures) (see asana curriculum)
Pratyahara: kirtan (devotional chanting), mantra yoga and hand mudras
Anatomy
Our goal is to provide students with:
 A conceptual understanding of muscle, bone, tendons, ligaments, nerves, and other organs involvement in the practice of classical ashtanga and hatha yoga.
Exploration of specific asanas, related potential injuries, and grounding/stabilization within a regional review of the anatomy.
Asana
The asana program develops two interdependent tracks of learning:
(1) The morning asana classes offer two to three different levels/styles to choose from, and are primarily to develop your practice by exploring a diverse range of postures with the classical aim of 'triputi', uniting body, breath and mind.
(2) The afternoon clinics lay the foundation to prepare you to teach a beginning level asana class. A core of 28 postures will be studied, covering the common principles underlying the classical actions of balance, twists, inversions, standing, sitting, reclining, forward, backward and lateral bends. Each clinic includes student-teaching exercises, covering the following aspects:
The intent of the asana: alignment and biomechanics
Modifications and the appropriate use of props
Basic manual adjustments
Skills in verbalizing and demonstrating the postures
Integration of breath and mindfulness in the practice of asana
Pranayama and Meditation
Pranayama purifies the body and mind, developing one's concentration for effective sitting meditation. The daily sessions are to cultivate a personal practice and to prepare you to teach beginning level pranayama and meditation. You will systematically learn a variety of classical pranayama drawing from the Hatha Yoga system, including the 4 Purifications and 3 Bandhas, covering the following aspects:
Benefits and contraindications
How pranayama affects the flow of Prana or life force
Classification of pranayama according to Tridoshic Theory
Teaching methodology and supervised student teaching
Teaching Skills
Designing a balanced beginning class
Principles of sequencing asanas
Teaching beginners with varying abilities
Supervised student teaching
Setting up classes in your community
Evolving a personal teaching style
Ethics in teaching yoga
Specialty Classes
Power-Hatha Flows, exploring a broader variety of asanas
Asana and Ayurveda: classification of asanas according to one's constitution
Restorative Yoga
Chair Yoga
Yin Yoga
Partner Yoga
Prenatal Yoga
Asanas for the female cycle: premenstrual – peri-menopause
Health benefits and contraindications
How asana affects the flow of Prana or life force
Course Materials
At the beginning of the program students will receive an orientation package which includes:
The Ashtanga Yoga Primer by Baba Hari Dass.
An Essay entitled "Binding Thoughts" by Baba Hari Dass.
Silence Speaks by Baba Hari Dass.
Salt Spring Centre of Yoga YTT Manual.
Common Sanskrit terms.
Additional course specific presentation materials.
An optional reading list.
Basic Anatomy Visuals (link).
Introduction to Ayurveda by Dr. Vasant Lad (link).
No additional publications are required to be purchased for this course.
Home Assignments
There are written assignments, selected readings and quiz reviews that are provided at the end of the July session. These assignments are not graded, but are required to be completed and handed in by the August session in order to receive the Certificate of Completion. Approximate time spent on these assignments ranges between 10-15 hours.
Formal Student-Teaching Sessions
Midway thru the August session, each student will present two separate student-teaching practice sessions – one for a beginning level pranayama and meditation class and one for a beginning level asana class. These are done in small groups of ten students with an instructor observing. (Note: You will be teaching your fellow YTT students, not the public). A full orientation for both student-teaching sessions is done at the end of the July session. What you will be teaching is based on what you learned in the July Session.  It is expected that during the break between July and August you will be preparing for your final student-teaching sessions. There will also be some scheduled class time at the start of the August session to review and consult with your instructors.
Certificate of Completion
The Salt Spring Centre of Yoga is currently a registered school with the Yoga Alliance and our Yoga Teacher Training program qualifies anyone who completes it to register as an RYT (Registered Yoga Teacher) at the 200 hour level. To receive a Certificate of Completion at the end of the course, the following are mandatory:
Full attendance and participation for the entire program
Completion of all readings and assignments (assignments are not graded)
Attendance and participation in the Formal Student-Teaching Sessions for (a) Pranayama & Meditation and (b) Asana.
Payment of all fees as agreed in the Student Enrollment Contract. (Those students who choose a payment plan option will receive their Certificate of Completion when all payments under the plan have been received.)
Absenteeism due to medical reasons or other deemed emergency will need to be approved by the Salt Spring Centre of Yoga Program Director to remain eligible to receive the Certificate of Completion. Particulars of Absenteeism are outlined in the Student Agreement Contract.
"This was a truly life changing experience for me. Both the program and the teachers were amazing – I went into the training to deepen my own practice and came out feeling ready to teach yoga, but also with an awareness of my own limitations and a strong desire to remain on a life-long journey of yogic inquiry and curiosity. Teach to Learn! In my opinion, the school couldn't have been more supportive of it's students. Highly recommend it."