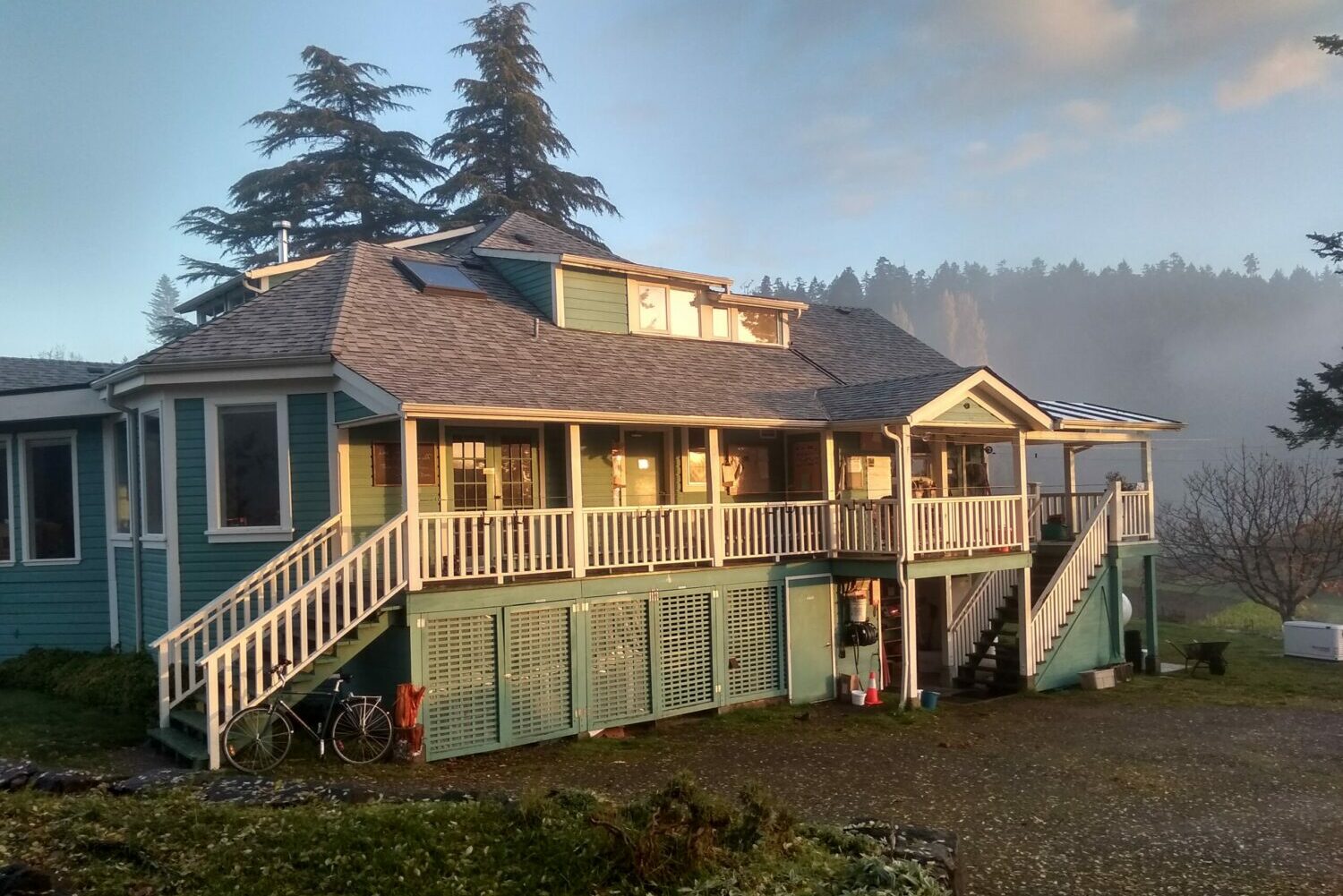 Caring for the Caregivers – A talk with Corrine McKell
By Courtenay Cullen
And, just like that, spring has arrived on Salt Spring.
If you're like us here at the Centre, then it's hard to overstate just how much of a relief it is to see life begin anew this spring, and how much promise is contained in each slowly unfurling bit of green. This spring, in particular, it feels like we're all coming out of the dark.
This is especially true here on the land, as we head into our first fully open season at the Salt Spring Centre of Yoga, after being closed for a full two years.
As eager as we may be to jump headlong into the future, however, and leave the pain of the last two years behind, it is not always that easy. All experiences leave their marks. And when painful experiences cross into the realm of trauma, it often stays with us, whether we like it or not.
One of the very first retreats we are honoured to host this season will be led by friends and co-creators Farah Nazarali and Corrine McKell, and it will focus on this issue of trauma, and will bring a trauma-informed approach to yoga, as well as offering tools for participants to begin to process and heal the deep wounds it can leave behind. In particular, this retreat is being offered as a well-deserved salve for our beleaguered front line workers.
Farah is a longtime friend of the Centre; a gifted yoga teacher and facilitator of truly transformative retreats. Corrine has been a nurse for 18 years and Clinical Nurse Educator for 3 years, and has also trained as a trauma-informed yoga teacher. The two met while Farah was leading a retreat in which Corrine was a participant. They hit it off, and, while talking, Corrine shared her concern for her profession, where for many it is still considered a "badge of honour" to be tough, to push through, and to not speak about the emotional impact of their experiences. She also shared what her years-long yoga and meditation practice had taught her about how to take care of herself, and her desire to be a catalyst in starting the conversation about mental health in health care – a topic that many still consider taboo. Farah was in.
It's been two years since the seeds were planted during this meeting, and their upcoming retreat, Resilient Bodies, Healthy Minds, April 15-17th, 2022 will finally see them come to fruition.
I sat down with Corrine to learn more about the value of a trauma-informed approach, and to hear more about her own story.
Corrine is a Clinical Nurse Educator who works out of the Addiction Recovery Centre in Edmonton, AB, where she cares for patients who are acutely withdrawing from psychoactive substances.
Prior to this, Corrine was an inner city emergency room nurse, where she often treated both patients who were victims of violence, and those who were perpetrators of it.
At first, she said, she loved her job. Loved the ER, loved nursing, loved everything about it. And when she was finished for the day, she was able to leave it behind, at the hospital.
"It was amazing, [I lived] ten minutes walk away, and then I'd be home and done."
This continued for a while. But as the painful experiences she was witnessing built up, things began to shift.
"Then suddenly, I wasn't so done, anymore."
At the time, Corrine wasn't sure what was happening, but it began to impact all aspects of her life. She stopped sleeping well. She started to experience spontaneous flashbacks; horribly upsetting scenes replaying themselves over and over again in her mind. It was one particular case, however, that made her realize finally, "I'm not okay," after she could not stop recalling a harrowing incident in which they were unable to revive a young female patient who had attempted to end her own life.
She now knows what was happening.
"I wasn't processing the pain that I was bearing witness to all the time."
Emotional pain, even more than physical pain.
Corrine believed at first that she just needed a break from the ER. However she finally realized that she was being called to work with people who were using substances, after meeting many of them in the ER.
"I found myself really wanting to connect with them, engage with them, talk to them about making changes in their lives," she said, though the ER didn't always provide the opportunity to go as deep with them as she wanted to.
So she started working at the Addiction Recovery Centre as a nurse, and eventually the position came up for Nurse Educator, where they were looking for someone to support staff in taking care of patients who needed closer monitoring.
"I was very fortunate to get this position. It's an absolute dream, where I get to do both: I get to support patients, and to teach my passion for nursing and caring for people."
A big part of Corrine's new job was to orient new staff when they would arrive. She said she had to think about these patients most needed, especially when faced with a long road of recovery. She said it became evident that they needed to be "talking about the whole person…it has a lot to do with trauma."
This is because those suffering from a dependency or addiction, Corrine said, have often undergone incredibly adverse life experiences, and horrific trauma.
It became evident, she realized, that empathy and compassion were at the very top of the list of must-have qualities for her nurses. She began to train nurses with this in mind. From what is now referred to as a trauma-informed care perspective.
But it didn't stop there. Because, she soon realized, the trauma didn't actually stop with the patients.
As they began training more staff, she says, and "recognizing the trauma that our patients or clients have endured, [utilizing] that empathetic and compassionate quality that we need to have, it all of a sudden occurred to me that we [have been] expecting these health care staff again to bear witness to this suffering without any tools of how to care from themselves."
Corrine describes this as a lightning bolt moment, where she realized, "Whoa, just ethically, I can't do that."
So what would be the next step? How do you turn the tables on the staff who have been indoctrinated into a profession with an often outdated, old-school mentality? One that exists to provide care for others, but ironically still fosters the mentality in its nurses that they're "not human…not affected by stress loads, by the shift work, and by the emotional pain" that they are asked to consistently expose themselves to.
Corrine describes that it is as if, "it's supposed to be their super power not to be affected" by the trauma they are exposed to, and that as a nurse, "you didn't take on the trauma…you didn't take on the emotional pain, and you didn't have to talk about it."
Corrine recalls that while working in the ER, she would sometimes cry after a particularly difficult case. But rather than have compassion for this, she said her peers seemed to look at her with "judgment," as in, "Oh, she's not gonna make it."
Showing emotion, they seemed to be saying, meant you were simply not cut out for this work.
Thankfully, this is where yoga and mediation came in. Corrine and already been practicing herself for over 16 years, and while she had been drawn to it as a physical exercise, which aided in the physical aspects of her job (repetitive motions, reaching for IV bags, reaching for monitors…) she came to see how it was also building emotional resilience, and, she said, something we can't discount: "making me feel really good."
"Over time," she said, "I started realizing how it had transitioned from the physical to really supporting my mental health."
Another light bulb went off, and Corrine knew what she had to do. She found a cutting edge trauma-informed YTT (yoga teacher training) program, and learned how she could best share yoga and mindfulness tools with others.
She did this so she could finally acknowledge the trauma of not only her patients, but her staff. And arm them with supportive tools to process this trauma.
Cut to now, three years into her job as a Nurse Educator, where mindfulness training is an integral part of how Corrine orients all her new nurses at the Edmonton Addiction Recovery Centre.
And when asked how it's all gone, this yoga experiment, she replies, "The reception's been amazing."
Corrine's had staff approach her after to tell her what its meant to them. "I had a newer nurse," she recounts, "who recently came up to me and said, 'I called my friends and told them what you told me! And now I'm practicing miundfulness meditation regularly.'"
She is also quick to note that the trauma-informed approach extends beyond just yoga and meditation.
"If anything, you know…it's just that some time is taken for people to reflect on what will work for them. Not something that they'll kind of do once in a while, but a regular practice to take care of themselves. Whether that's yoga, or going for a walk, or…whatever that is. That's what's most important."
And of course, not only does this help these nurses care for themselves, it also helps them to provide better care, in turn, for their patients. Healing their own trauma, to help heal others'.
"In health care," Corrine explains, "we talk about the Zone of Helpfulness – at one end of the spectrum someone might be disengaged from the patient and the care they are providing, where at the other end of the spectrum, you are really taking on the emotions or the pain or the experience personally. And being in the middle is that healthy balance."
But in this challenging profession, it's not always so easy to stay there – or to recognize when you've slid too far in one direction.
"What I've found through yoga and meditation is they're essentially tools that are helping us recognize where we are in that Zone of Helpfulness…just as we learn more about our bodies, how we respond to stress and trauma, it helps gauge where we are."
And ultimately the goal is to be "providing care in an intimate way that is respectful, that you are proud of, but [where you are] not taking it on personally."
When we talk about how it's been received by her other colleagues, within the healthcare profession, Corrine is thoughtful, before she replies. There are some holdouts for the 'old ways,' of course, but she says for the most part people are happy to see her succeed. She holds a lot of hope for the future.
"You know, in health care we always want the science, and the evidence, right? So I always make sure that I share that. So when we talk about, you know, using breath or breathing exercise to stimulate the parasympathetic nervous system…that, they can relate to."
You're speaking their language, I note.
"Exactly," she replies. "Evidence-based. Nurses and health care professionals like science, and listen when things are evidence-based.
And obviously, the evidence is IN."
The evidence is in that mindful and diaphragmatic breathing is an appropriate intervention in situations of stress. The evidence is in that trauma-informed yoga is effective in helping people with trauma manage heightened emotional states. The evidence is in that caregivers, as well as patients, are human beings who also need to process the trauma they witness.
While eastern wisdom traditions have long understood the physical, emotional, and mental benefits of yoga and meditation, it is inspiring that science is catching up and offering so many more people the tools needed to build mental and emotional resilience.
And it is especially inspiring that people like Corrine and Farah are bringing the science and the long history of these healing arts together to care for people who have been working so hard to take care of the rest of us.
For more about the upcoming Resilient Bodies, Healthy Minds retreat, visit Farah's website and register at https://farahnazarali.com/restorative-retreat/