Inhaling Deeply & Embracing the Dark
"This is life. It includes pleasure, pain, good, bad, happiness, depression, etc. There can't be day without night. So don't expect that you or anyone else will alway be happy. Stand in the world bravely and face good and bad equally. Life is for that." -Baba Hari Dass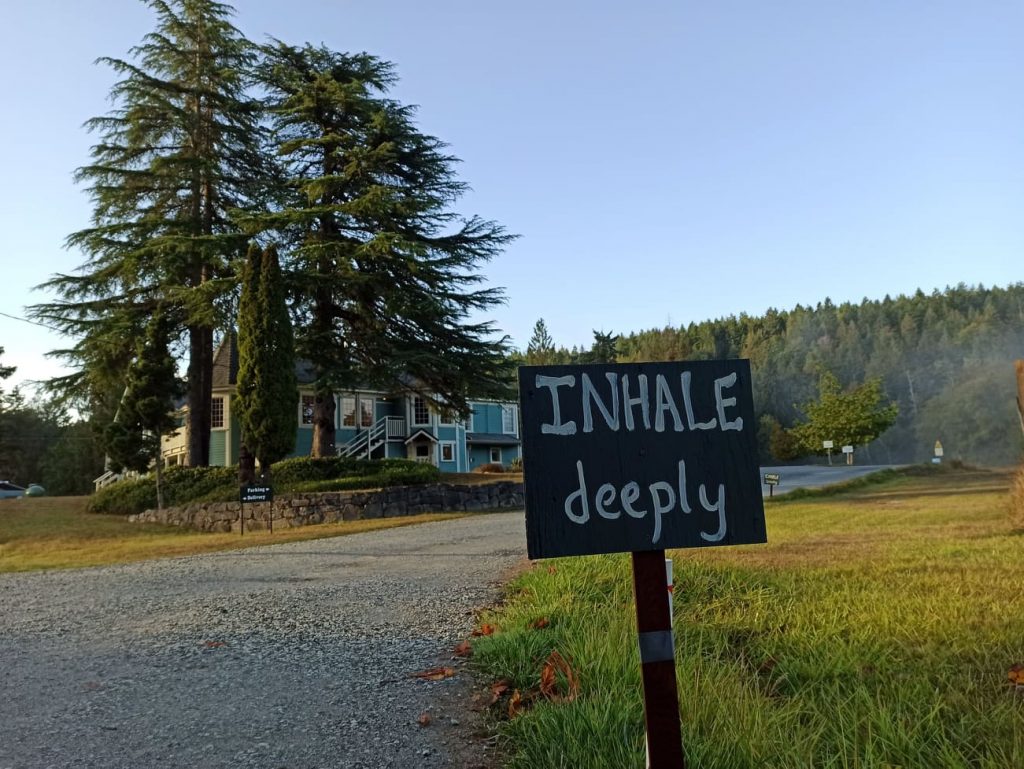 Hello friends.
As the changing energy of the season delights us with all of the colours of fall, may we take time to turn towards the majesty of autumn sunlight and warming hues. Like the gift of this season, may we nurture our own beauty and light even as the earthly light fades into cooler, darker influences.
As Babaji reminds us, there is no light without the dark. We cannot have the bright, buoyant openness of summer without the slowing quietude of fall, or the dark, restorative chrysalis of winter. In our society's relentless pursuit of pleasure, we tend to demonize the dark. But in so doing, we deny ourselves fully half of life's experiences.
It can be hard to embrace the dark. The shortening days, the quieting down, and ultimately, the facing of our own shadows, which emerge and seem to grow as the light wanes, can all make us want to run away, and hide under the bed. It can be scary. This is where our practice comes in. (Our practice is practical! I find myself forgetting this.) Supported by sadhana, and by the many teachings we are blessed to be able to access, we can use our tools to steady ourselves in the face of what we find.
As we know, holding onto past resentments is a favourite pastime of our ego, and this month we have a powerful article from Chetna meditating on this tendency, and how we might finally let go, and forgive. We also have a beautiful offering from Kenzie, a "Low & Slow" practice, which will guide you in paying special attention to your legs, hips, feet…and everything we use to root down and ground into the earth. To create a strong foundation we must open, rather than close, and embrace everything that comes: dark, light and all that falls in between. As Babaji says, let us, "stand in the world bravely and face good and bad equally. Life is for that."
Time flows along even as our sadhana (yoga practice) returns us to the present, again and again. May we nurture the eternal, present moment as we take time to delight in the beauty all around.
Centre News & Rituals
Centre Happenings….
We are busy at the Centre! Harvesting continues: from tomatoes to orchard fruits, to walnuts and seeds. Lahiri has taken responsibility for the grounds as well as the harvest, while Mahavir is away to see family this month, returning after Thanksgiving. Lauren and Steph are doing an amazing job 'taking back' the gardens from the morning glory, blackberries and thistles.
The Centre recently hosted a harvest work/play party! It felt like 'mini' retreat time, and the weather was beautiful, with many on-island Satsang joining together to harvest over 1500 pounds of pears! Wow!! Everyone was rewarded for their efforts with Sid's delicious Tofu Surprise for lunch. What a wonderful day.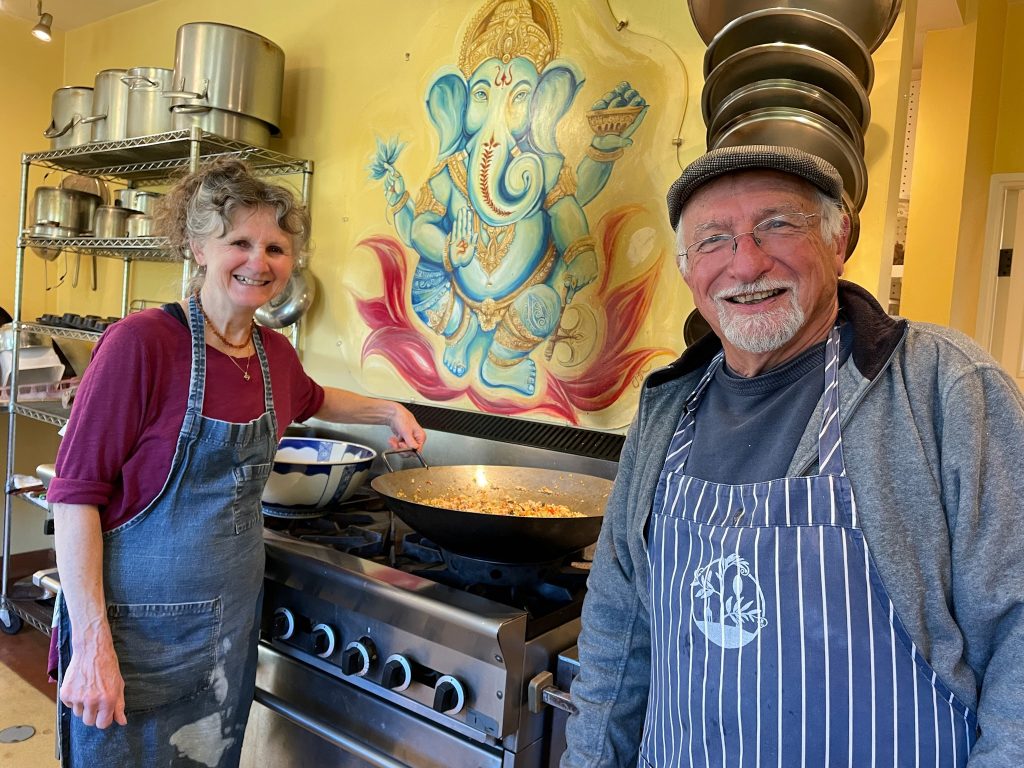 Maintenance keeps Suneel busy with a long list of jobs that always seems to keep growing! Fall time also means firewood and winterizing. With Jagannath over for the Yajna and staying to help for a few days, the hot water tanks are all being flushed and other areas checked.
The Farm Stand continues to be a great service for the locals while providing support to the Centre. Thank you to Moss and Lahiri for continuing to keep it well-stocked; the school parents and kids are enjoying the goodies Moss is making. We have a new farm stand sign out at the highway as well as a new 'Love' sign on the driveway and our 'Inhale /Exhale' reminders.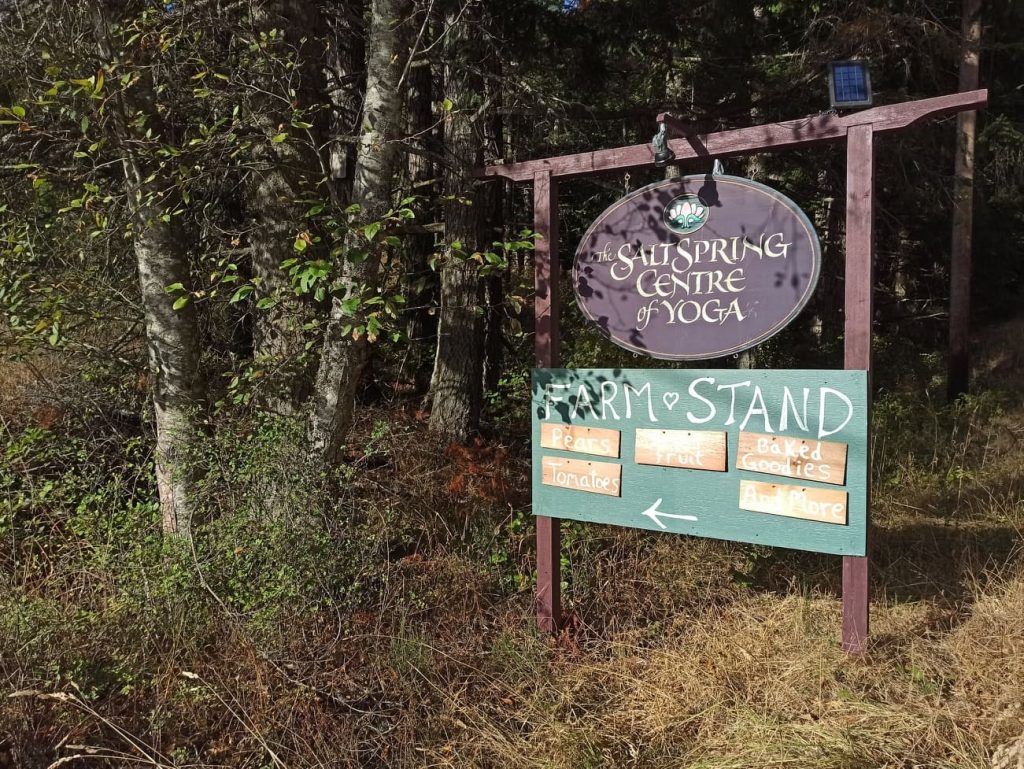 Our new Office Co-ordinator joins us this month! Patricia starts work October 4th, and we are all looking forward to welcoming her. Kris will be over to support her 'landing.'
Selva will be returning to Spain mid October. We hope her return to the Centre will not be too long away, and we will all miss her beautiful photographs. In the meantime, Suneel, Sharada, Moss, Lahiri and Anuradha all remain on the land, engaged in many projects while keeping the flame lit for us all.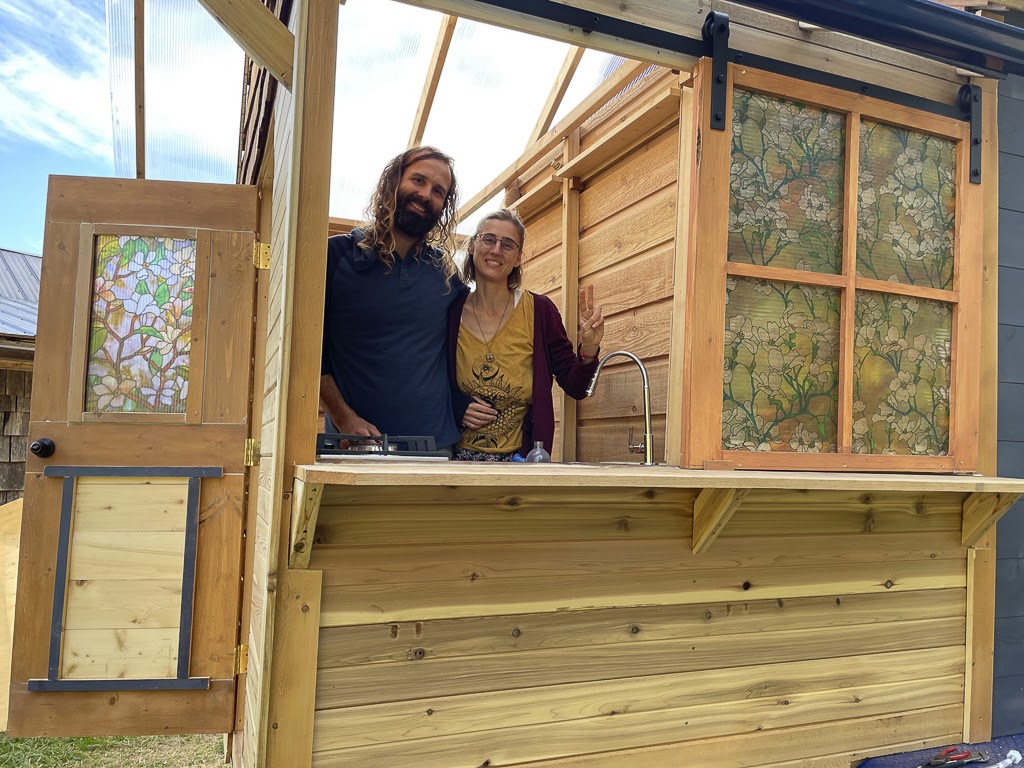 Ganesh Chaturthi Sept 9, 2021
The fourth day (chaturthi) after a full or new moon is traditionally sacred to Ganesh, and the fourth day after the new moon of the month of Bhadra in Vedic astrology is the traditional date given for Ganesh's birthday, or main festival day.
Our celebration of Ganesh's Birthday honoured the one who grants success and removes obstacles, by illuminating the obstacles and the path. Yogeshwar and Mahavir teamed together to perform the puja and rituals given by Babaji for this sweet annual observance.
Honouring Babaji with Aradhana, Sept 21, 2021
This month was Babaji's Aradhana Ceremony of Remembrance and Devotion. This is the third year since Babaji left his body, so the Indian lunar calendar date this year was Sept 21st. A beautiful Puja and Yajna was held outside on the mound with Yog officiating the offerings and prayers this year. The wind shifted partway through, bringing a deep feeling of Babaji's presence. It was a beautiful morning to honour our Beloved Teacher.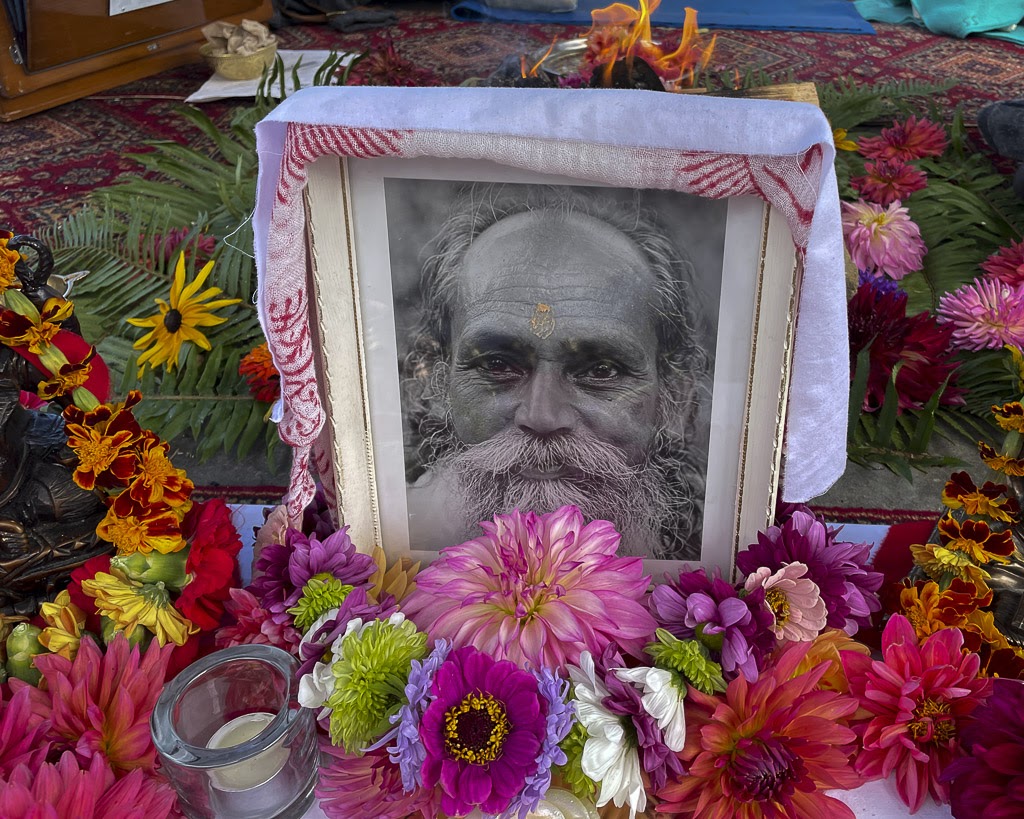 Centre Yoga Classes
"The Body is the temple of the soul. The soul is God's Temple" -Babaji, The Yellow Book
We have been working to stay aligned with the Public Health protocols to ensure we are doing our part to keep our communities safe and compliant. As such, all yoga teachers and students will need to provide proof of at least one vaccination starting September 13, 2021 for indoor classes.
From October 24th onwards, yoga teachers and students are required to provide proof of being fully vaccinated for indoor classes, until provided different instructions from Public Health. We will continue to closely monitor the Provincial Health Orders for any changes.
In addition – British Columbia has reintroduced a provincial mask mandate for public indoor spaces; all guests, staff, teachers and volunteers are required to wear masks when moving through our indoor public spaces – including to and from your mat.
We thank everyone for helping us to comply with Provincial Health Orders so we can continue to offer classes to our community!
YOGA CLASS SCHEDULE
Advance registration required for ALL classes at this time (both online and in-person)
Click HERE for updated Schedule and registration details – always on the website
Online Zoom Classes with Cara and Sam
Sunday 11:00am to 12:15pm – Gentle Hatha Repair
Wednesday 11:00am to 12:15pm – Mellow Yoga Class
In-Person Classes
Monday 4:30pm to 5:45pm – All Levels Hatha – Dorothy Price
Wednesday 2:00pm to 3:30pm – Continuing Beginner Class – CP Lynday Savage
Thursday 10:30am to 11:30am – Gentle Yoga – Jim Dickinson *Sept 30 – Dec 16*
Thursday 4:30pm to 5:45pm – All Levels Hatha – Dorothy Price
Friday 9:30am to 10:45am – Yoga Flow for Everybody – John Howe
Saturday 10:00am to 11:30am – Mixed Levels – CP Lyndsay Savage
Weekly Satsang and Ongoing Classes
Tuesday 7:30pm – 8:30pm – Bhagavad Gita – with Mahavir
Thursday 7:00pm – 8:15pm – Yoga Sutra Study – with Yogeshwar
Sunday 1:30pm – 2:30pm – Satsang on Zoom
**Please find more information, including the Zoom link, on the website HERE**
Rituals will be posted in Facebook and on the Website also
2021 Ramayana: Re-Imagined! Watch it today!!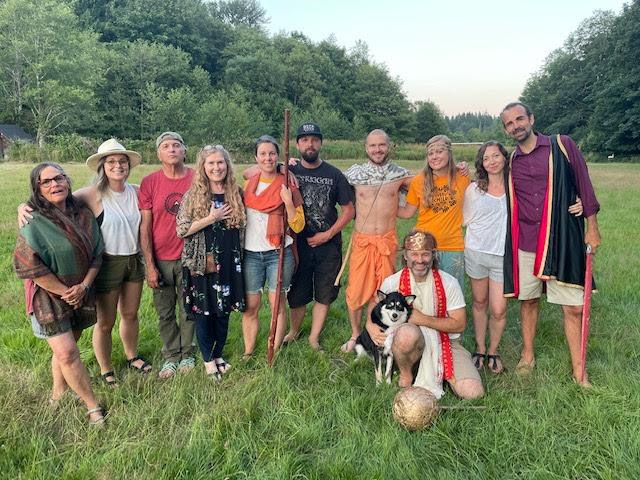 The 2021 Ramayana!! Re-Imagined, like never-before as a short documentary style film.The Centre's Ramayana Team directed, produced, filmed, and starred in this lovable, light-hearted and hilarious take on the ancient Indian epic drama (one of Babaji's most beloved stories).
As a FUN-draiser we appreciate your on-going support for the Centre. Every donation is helping us through the pandemic; upgrading our facilities, creating an innovative Yoga Study and Service Immersion program, and other online offerings.
A $15 donation is suggested, however you can donate any amount you feel inspired to give.
For Your Reading Pleasure…
This month Chetna gives us a timely reminder of the power of forgiveness, and of recognizing our own ego in this work.
Kenzie offers us a mobility practice for the lower body in this Asana of the Month piece. By tuning into our own fluid nature, we use the support of the earth to help us go with the flow.
"The Web"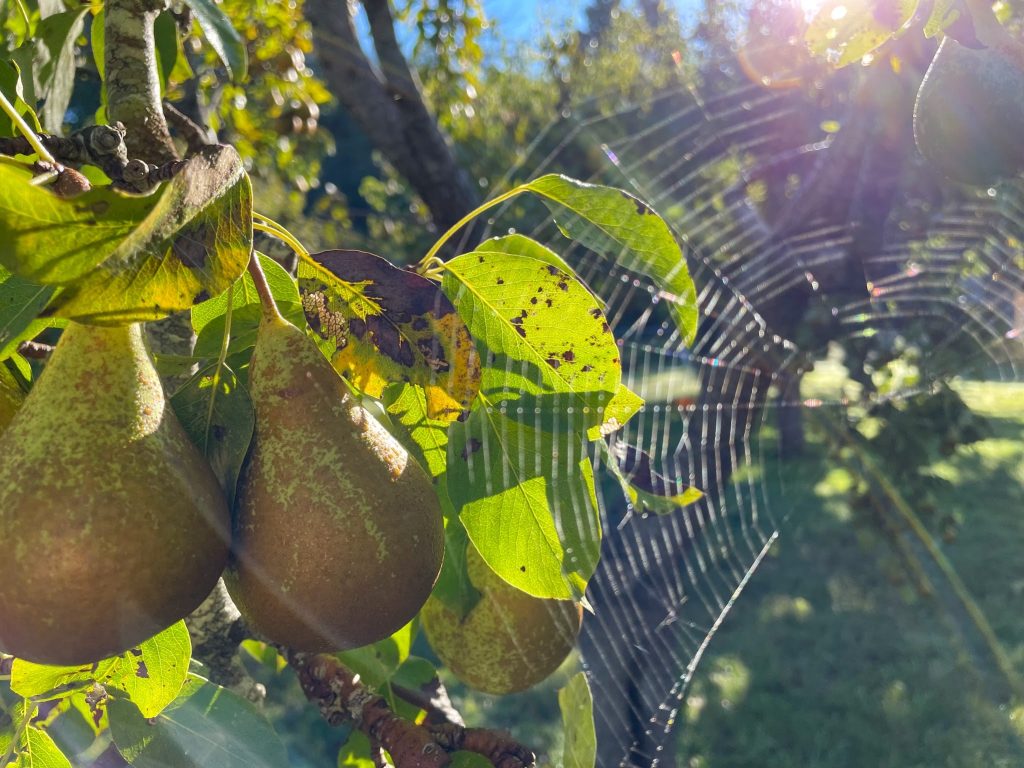 by Alison Hawthorne Deming
with lines from Claude Levi-Strauss
Is it possible there is a certain
kind of beauty as large as the trees
that survive the five-hundred-year fire
the fifty-year flood, trees we can't
comprehend even standing
beside them with outstretched arms
to gauge their span,
a certain kind of beauty
so strong, so deeply concealed
in relationship – black truffle
to red-backed vole to spotted owl
to Douglas fir, bats and gnats,
beetles and moss, flying squirrel
and the high-rise of a stag,
each needing and feeding the other-
a conversation so quiet
the human world can vanish into it.
A beauty moves in such a place
like a snowmelt sieving through
the fungal mats that underlie and
interlace the giant first, tunneling
under streams where cutthroat fry
live a meter deep in gravel,
flying downstream over rocks
that have a hold on place
lasting longer than most nations,
sluicing under deadfall spanners
that rise and float to let floodwaters pass,
a beauty that fills the space of the forest
with music that can erupt as
varied thrush or warbler, slypso
orchid or stream violet, forest
a conversation not an argument,
a beauty gathering such clarity and force
it breaks the mind's fearful hold on its
little moment steeping it in a more dense
Intelligibility, within which centuries
And distances answer each other
And speak at last with one and the same voice.
Are you a writer? Open Call for Newsletter Articles!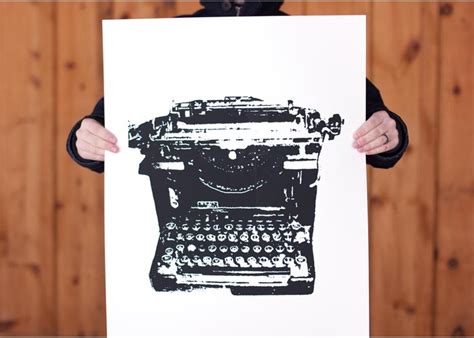 We are always looking for folks to write for the newsletter! Do YOU want to write for us? Do you have a story to share? We are wide open to anything Centre-related, or seen through a yogic lens. How did you first come to the Centre? Asana/Flow of the Month (could have a video link), yoga book reviews, scriptural/philosophical study, yoga modality exploration, poetry, how yoga helped your personal pandemic experience, the 'Yoga of' your current job…etc. If so, contact us at info@saltspringcentre.com
In closing…
We celebrate the changing of the light, the harvesting of the fruit, and the gathering more closely together of family and friends around the fire, as we move through this beautiful autumnal time.
With the holiday of Thanksgiving also approaching this month, we give thanks for each one of you, our beloved community, near and far. And we send these thanks out onto the back of the whistling wind of Vata season – may it caress your cheek and help you to feel the love of this precious moment, wherever it may find you.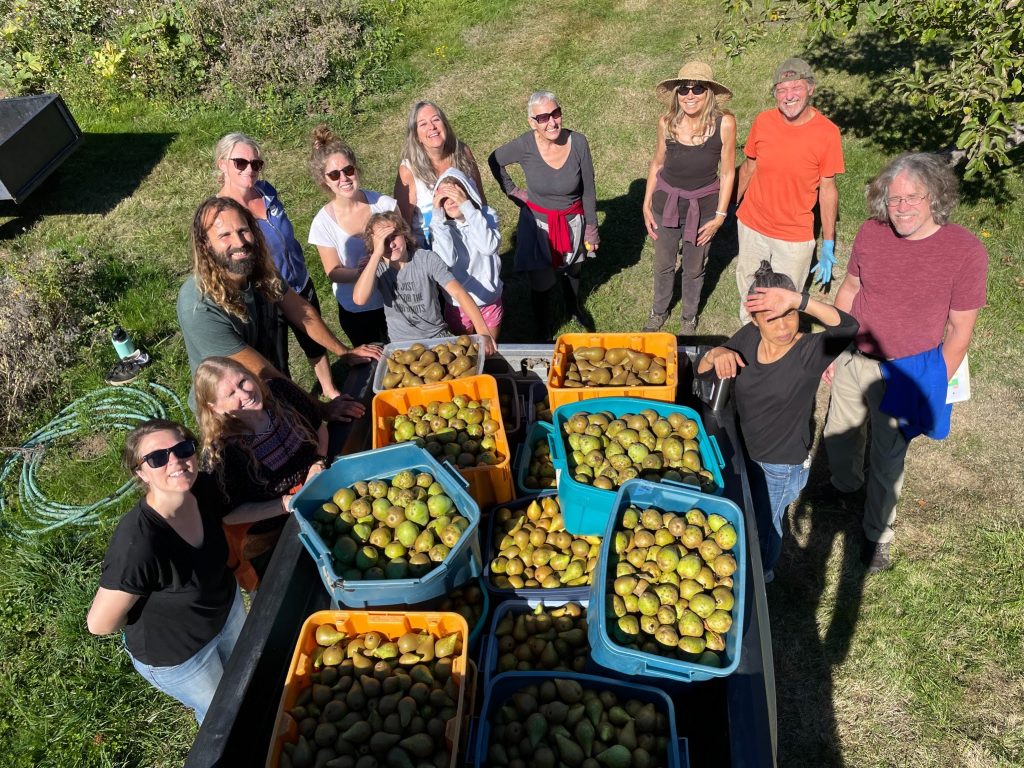 With Love & Gratitude,
Kenzie & Courtenay