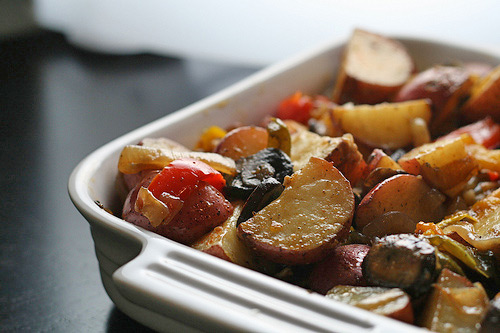 An easy, warming meal that prepares itself while you finish writing the Great Canadian Novel. Use any combination you like of your favourite root vegetables.
INGREDIENTS:
Serves 4-6 as a main or side dish.
2 cups (480mL) coarsely chopped leeks
2-2 1/2 cups (480-600mL) chopped potatoes
2-2 1/2 cups (480-600mL) chopped yams
2 cups (480mL) chopped carrots
1 Tbsp (15mL) oregano
1 Tbsp (15mL) basil
1 Tbsp (15mL) parsley
1 tsp (5mL) rosemary
1/2-1 tsp (2-5 mL) salt
1/2 tsp (2mL) pepper
METHOD:
In a bowl, sprinkle the spices over the vegetables and mix in.
Spread out the chopped vegetables in an oiled baking pan or on a cookie sheet.
Cover the pan and bake at 400°F (205°C) for 45 minutes.
Uncover the pan and bake for 15 minutes more or until the vegetables are soft and beginning to brown.
Recipe from The Salt Spring Experience.
Photo by: redcargurl