Bring on the Yoga Fiction – Book Reviews by Kenzie
Continuing the theme of 'yoga books not found in the 'Yoga' section of the library', I present to you two works of 'Yoga Fiction'. Though I read all sorts of books, I turn to fiction when I want to take a little vacation from my life and inhabit a completely imaginary one that is well crafted and engaging. Yet I admit I was slightly skeptical of the idea of yoga fiction, especially when also touted as chick lit, meaning "genre fiction which addresses issues of modern womanhood, often humorously and lightheartedly" (Wikipedia).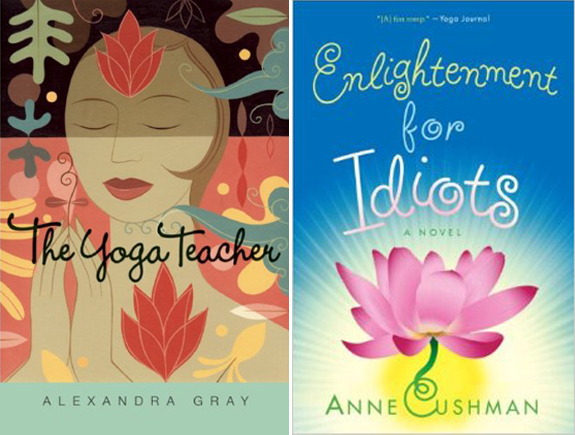 But, honestly, I loved both of these books. In fact I read both again six months later and enjoyed them just as much the second time around (a poor memory really helps with this). These books conjure worlds I can easily imagine myself inhabiting, or at least as a fly on the wall. I was able to suspend disbelief and simply experience the stories not only because they are about all things yoga, but also because of (rather than in spite of) their 'chick lit' genre. I AM a modern woman: I should more often approach my yoga with humour and light heartedness. And yet because they are about yoga, they go deep. Both of these authors have obviously mined the depths of yoga themselves or this yogi would have found their work disingenuous.
Both books offered some yogic wisdom at the start of each chapter. 'The Yoga Teacher' had simple silhouettes and lyrical descriptions of asanas that then wove themselves thematically into the following chapters. In 'Enlightenment for Idiots' it was either a quote from a yoga guru, often hinting at the real teacher behind the fictional one about to be encountered, or a pose description that lent itself to the unfolding story. I think this speaks to the truism that you 'work on yoga and yoga works on you', and that this practice does not stay neatly on your yoga mat but follows you out into your world whether you like it or not.
'The Yoga Teacher' is set in London, England and Grace is an Astanga yogi and pharmaceutical sales rep. Throw in the turmoil caused by her partner dying, her new boyfriend's drama and a chance encounter with a psychiatric doctor with similar misgivings about the pharmaceutical industry, and you've got a recipe for major life change! As this is a work of fiction I'm tempted to not give too much away, but, suffice it to say, she does dump her boyfriend, quit her job and head to a yoga teacher training in the States. The irony is not lost on her that she is heading west, not east, to study yoga.
Anyone who has completed a YTT likely recalls the sharp contrast between who they thought their classmates were at the start of training compared to who they revealed themselves to be by the end. The author, Alexandra Gray, shows through Grace's character that this is as much about our own innate biases as it is about yoga's cumulative effect of peeling away the layers we use to project our ideas of ourselves onto others, thus allowing us to simply being who we are. She also explores that awkward limbo of a thirty-something woman who is not so sure which 'camp' she belongs in: the young, single, childless twenty-somethings or the more experienced (and less drama-oriented) over thirties.
The second half of the book follows Grace back to London to make her way as a teacher. When her yoga teacher offers her a position at his studio without pay she casts her net wider to make a living. She grows into herself as a yoga teacher by embracing the opportunities that come her way, teaching patients referred to her by doctors who have no more solutions, and as the 'hired help' to London's rich and famous.
'Enlightenment for Idiots' has a similar story arc of a young woman/yogi in a tumultuous relationship choosing to make radical change and using yoga to reimagine herself into the future. But in this book, the scope of exploration is wider and humour is used to great effect. Amanda, living in LA, has a degree and a series of dead end jobs. She writes travel 'For Idiots' books to pay the rent and is offered the job of going to India to write a book about how to find enlightenment – 'For Idiots' of course.
I suspect any travel log of India would be fascinating, but seen through the eyes of a Western yogi who must track the elusive 'enlightenment' while sending chapters back to her editor regularly about her progress makes for an infectious read. Amanda visits gurus and ashrams that overtly hint at their 'real' counterparts- Amma, Sri K Patabhi Jois, Satya Sai Baba, as well as straight up places of spiritual pilgrimage: Mt. Arunchala, the Ganges River, Rishikesh, Mysore and the cave where the Buddha was said to have meditated, as well as the tree where he gained enlightenment. She finds the ideal travelling companion in a red-headed, dreadlocked, celibate sadhu who always speaks of himself as "we". He offers a counterpoint of stillness and perspective to offset her frantic search in the face of a plot twist I dare not share in hopes you will read this book!
I really fell for Amanda. She has an honesty and wit that feels refreshing amid the overly serious tenor of many seekers. The way the author shares Amanda's inner dialogue shows insight and familiarity with how we all fall into the ego's trap of creating a narrative of our lives from the outside in and then suffer when reality fails to mirror our own mental constructs. There is a vulnerability in sharing such private thoughts that I think only a work of fiction truly allows, and thus I was able to feel more emotionally invested in Amanda's unfolding story.
These are stories to get lost and found in. They offer beauty, depth and an honest glimpse into a contemporary woman's experience of life through self-inquiry and subsequent transformation. They also realistically explore the intersection where yoga practice meets life and both consequently become enriched and enlivened. Plus, in case you haven't already, you get to attend a yoga teacher training and a pilgrimage to India.
Bring on the yoga fiction!
—

Kenzie Pattillo completed her 200 hour YTT at Salt Spring Centre of Yoga in 2002. She is a householder yogi/mama living in North Vancouver, B.C. and presently teaches yin, hatha and flow yoga in her community. En route to completing her 500 hour YTT designation she has recently begun practicing one on one restorative therapeutics.