Kitcheree – comfort food, Centre-style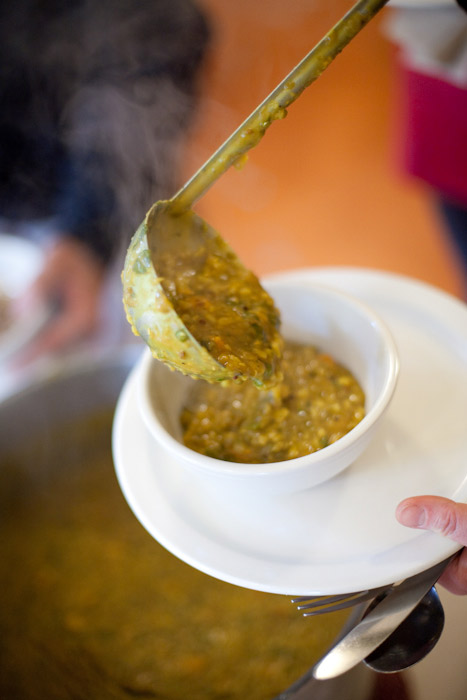 Kitcharee is a favourite dish of guests and Karma Yogis alike. It's a combination of mung beans, rice and spices that warms and nourishes. It is also easy to prepare and just plain delicious.
Ingredients:
SERVES 8-10
6 Tbsp ghee
1/2 tsp black mustard seeds
1 Tbsp turmeric
2 tsp coriander
3 Tbsp cumin
1/2-1 tsp chili flakes
1-2 tsp salt
1 cup chopped leeks
1 cup split mung beans (uncooked)
2 cup basmati rice (uncooked)
8 cups water
5 Tbsp ginger juice
Method:
Heat the ghee in a soup pot. When it's hot, add the mustard seeds. When they pop, add the other spices (except ginger) and the leeks.
Stir the spices for a minute or two. Watch that they don't burn.
Add the rice and mung beans. Stir to coat them with the spices. Then add the water and bring to a boil. Cover the pot and turn the heat down to simmer until the rice and mung beans are cooked (about half an hour).
Add the ginger juice.
Variations:
You can add more water if you prefer your kitcheree soupier, and more ghee if you want it richer.
You can add vegetables like potatoes or squash to the pot for a heartier version.
You can add chopped fresh kale or chard near the end of the cooking time for some extra green goodness.
How do you like your kitcheree? Do you have a different version of this recipe? Do share in the comments!
Recipe reproduced from The Salt Spring Experience: Recipes for Body, Mind and Spirit.
If you would like to purchase a copy of our popular book, contact us and we'd be happy to send you one.
Photo by www.grantharder.com