Soup, Beautiful Soup – Recipes for Fall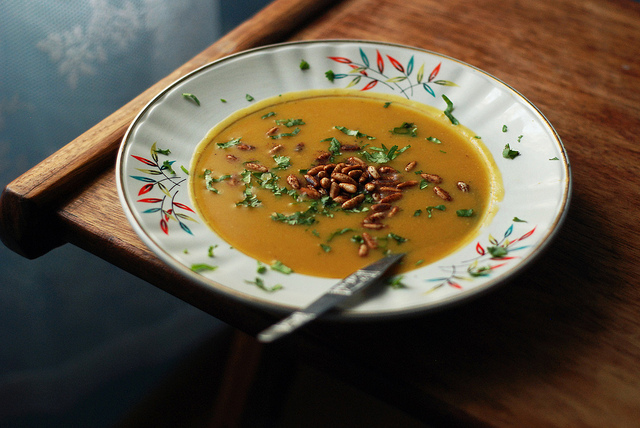 Ayurveda has always stressed the importance of serving freshly cooked meals, using fresh ingredients, and cooking with a sense that we are feeding the divine within ourselves. To have the means and the skills to feed ourselves is such a blessing! And to be blessed with the abundance of a home garden from which to draw the ingredients, is a double treat. Even if your ingredients come from the local farmer's market (or a nearby Costco!), do make sure they're labeled 'organic'. Better for you, better for the planet, and so much tastier!
The cool, windy qualities of fall may call us back to the kitchen, with visions of a hearty bowl of warming soup to share with our family during the darkening hours of evening. The soups below (when prepared with ghee) will also help bolster our digestive agni to help maintain the ojas, or vital immunity, during the coming days of winter.
Enjoy either of these soups with your favorite grain dish and an assortment of steamed greens! Nourishing and satisfying as you prepare for an evening relaxing with friends!
Butternut Squash & Carrot Soup
One of our favorite blended soups, this sweet and creamy dish is vata reducing, pitta balancing and, depending on how much you eat, can be kapha increasing! Serves 6-8.
Ingredients
2 T ghee or olive oil
1-cup leek or onion
2 inch fresh ginger, chopped
1 clove garlic (optional)
4 cups soup stock (or water)
2 cups cooked butternut squash (skin removed)
2 cups grated carrot
1 teaspoon (or cube) of vegetarian bouillon
1/4 tsp turmeric
1 pinch ground cinnamon
Salt and pepper to taste
Directions
Steam or bake the butternut squash and mash it a bit.
Heat olive oil in a large pot over medium heat. Add chopped leeks (and garlic if used), and cook until leeks are translucent.
Add soup stock (or water), squash, grated carrots, bouillon, and turmeric.
Bring to a boil and cook until carrots and ginger are tender.
When cool, transfer to a blender; blend briefly to desired consistency. Soup is intended to be thick and creamy, so add water only if necessary.
Return soup to pan and heat to just below boiling. Season with salt, pepper and cinnamon to taste.
Serve with a swirl of cream on top, or a sprinkle of parsley. And if you still like to indulge in wheat, some crusty French bread!
Thanksgiving Beans
This festive soup is from Dan Jason's "The Whole Organic Food Book". A sublime centerpiece for your Thanksgiving celebration, this dish is especially delicious if the main ingredients are fresh from the garden. Prepared with love, this soup is balancing for all three doshas. Serves 6-8.
Ingredients
1-cup beans (lentil, adzuki, pinto, black-eyed peas are suggested)
4 T olive oil or ghee
4 medium onions (or 2 leeks), coarsely chopped
2 T chopped garlic (optional)
4-6 cups plum tomatoes, chopped
1 medium sized winter squash, cooked
1 T green, red, or jalapeno chili, finely chopped
2 T orange rind, chopped
½ cup raisins
½ tsp cinnamon
½ tsp allspice
½ tsp nutmeg
¼ tsp ground cloves
2 large tart apples, peeled, cored and cubed
Salt and pepper to taste
Directions
Soak the beans overnight or at least 4 hours. Heat to boiling in a large pot and simmer for 1 hour.
Sauté the onions (or leeks, and garlic if used) in oil in a large skilled until golden. Stir in tomatoes, squash, peppers, orange rind, raisins and spices.
Simmer uncovered for 20-30 minutes.
Stir in the drained beans and apples. Simmer for 10 minutes.
Serve with oven-roasted potatoes.
May your appetite be hearty, your pantry full to overflowing, and your heart attuned to sharing the abundance of this life.
– Pratibha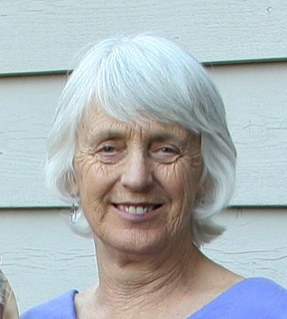 Pratibha Queen is a yoga instructor and Ayurvedic practitioner, who attends Salt Spring Center of Yoga retreats on a regular basis. Feel free to email with any questions that arise as you engage in health practices to support your yoga practice: pratibha.que[at]gmail[dot]com.
—
Soup photo by Joana Mendes.