Meet our YTT Grads: Laura Harris (Pt 2)
Laura has generously made available excerpts from the diary she kept while attending the 2012 sessions of our 200 hour yoga teacher training.
Part 1 was published last month, and Part 2 is published below.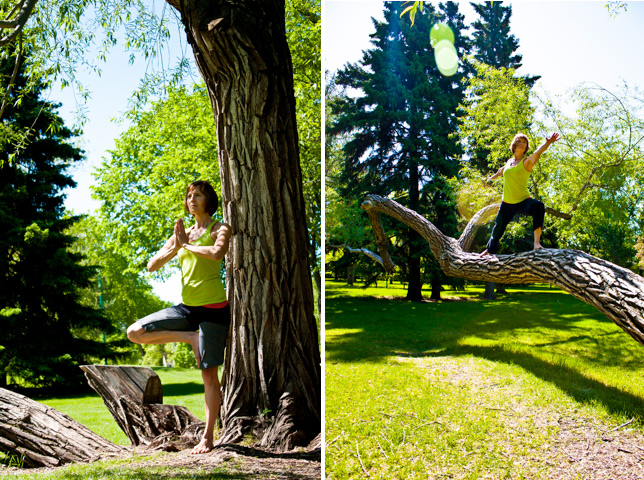 Diary of a yogi in training – Part 2
Thursday August 9
I arrived at the Salt Spring Centre of Yoga for the second half of my yoga teaching training, carrying my backpack stuffed with tent, sleeping bag, 2 tarps, air mattress, and clothing. I found a bed of fresh straw in the meadow camp ground on which I set up my teeny tiny tent. Awoke about 2am to a glorious night sky – the Milky Way draped across the heavens. Made it worth crawling out of my warm sleeping bag!
Friday
A small group of does and their fawns (still with spots) make their home in my camping meadow. They are quite unconcerned with our comings and goings; a gentle daily reminder of our close relationship to the natural world. It felt good to get back to our first asana class of the second session. I practiced handstands against the wall and it was harder than I expected to get my feet up in the air…not ready for Cirque du Soleil! In Sanskrit, the word asana translates as seat or posture. Asanas are biomechanical actions such as standing, sitting, bending, twisting, inverting, reclining and balancing. Our lecture today was on the physiology of the stress and healing responses, presented by Dr. Hamsa Wright, a physician of integrative medicine at the Inspire Cancer Clinic in Vancouver. She described the health benefits of breath work (pranayama) and yoga asana (poses) to the nervous system: the sympathetic nervous system (fight or flight) calms and the parasympathetic system (rest and digest) activates, slowing heart rate, breathing, and relaxing the endocrine glands, slowing the release of stress hormones. She wrote: "With regular sadhana (spiritual practice), resiliency to stress may improve and this reduces the risk of disease. If disease does occur, yoga practice can lessen its impact and aid the healing process." Notes, teacher training manual.
Saturday
Saraswati, a master asana instructor, appeared at our physiology lecture in a full body suit, hand-painted to illustrate the central nervous system (brain and spine). The amazing body suit was created by Kalpana, one of our faculty. As Saraswati demonstrated different yoga poses, we could easily see how the spine would move. At the next two classes, we watched demonstrations of asanas by instructors in in body suits depicting the cardio vascular, gastro-intestinal, endocrine, respiratory, and immune systems. One health benefit of yoga to body systems is the principle of pose-counter pose. For example, the squeezing, or compressing action of one pose, like a twist, followed by a release or more open pose results in organs being "rinsed out" and then re-filled with fresh blood. (Think of a squeezing out a sponge then putting it in fresh water.) No wonder we feel stagnant when we sit without moving for long periods of time. Enjoyed a swim in Blackburn Lake, yoga in the Pond Dome, the outdoor classroom/studio, and for lunch, a delicious bean dip molded in the shape of a heart, fresh-picked-on-site blueberries, and bliss balls (it was desert night!).
Sunday
Another very hot day. Attended a back bend clinic. Began preparing for my pranayama practicum. Pranayama practices (breath control) are based on the mechanics of normal breathing: inhalation, short retention, exhalation, and a short retention of breath after exhalation. The practices slow down the breath, calming the mind, and preparing one for concentration and meditation. The purpose of pranayama is cleansing one's inner space, quieting and stilling the mind, balancing one's energy, and developing concentration for meditation.
Wednesday
Late in the afternoon, I was privileged to participate in Arati, a Hindu devotional ceremony for the changing of the light at sunrise and sunset. All five senses are engaged : sight( candles), smell( incense), hearing( constant ringing of a small hand bell, chanting, and music), touch (receiving of a blessing in the form of a bindu, an orange-colored mark between the eye brows, or third eye ), and taste (a small handful of dried fruit and nuts). This is a form of bhakti yoga, the yoga of devotion, performed to honor and worship deities and the Master Teacher, Baba Hari Dass, founder of the Salt Spring Centre of Yoga. Interesting and moving to experience this beautiful ritual.
Thursday
The afternoon theory class introduced Ayurveda and Yoga Asana – looking at how specific poses help to balance the doshas. Ayurvedic dosha theory describes individuals as predominantly vatta, pitta, or kapha in nature. One's dosha is influenced by many factors including diet, lifestyle, habits, climate, season, aging, and emotional state. Yoga poses affect all 3 doshas in varying degrees, depending on the natural emphasis of the pose. For example, grounding, cooling, restful poses like child's pose or seated forward bend are calming to an aggravated pitta or vatta dosha and asanas that generate heat and movement like standing balances or the Sun Salutation Series are antidotes to an aggravated kapha dosha.
Friday
Today was the hottest day of the year so far on the island, giving new meaning to the term "hot yoga". Would have loved to have had a popsicle (any color).
Saturday
I completed my pranayama practicum early this morning. Many yogis went into town today for the world famous Ganges market. A feast for the eyes, with produce displayed like art and stalls brimming with jewelry, pottery, glasswork, woodwork, soaps, weaving, baking, cheeses, chocolate, and the ubiquitous tie-dyed clothing. Everything at the market is local and handmade or raised.
After supper, we celebrated the completion of teacher training with a talent show and yoga dance-rave. After a lot of laughs, a few tears, soda pop (!) and chips (!!) – organic, of course – I fell into bed after midnight, exhausted and exhilarated.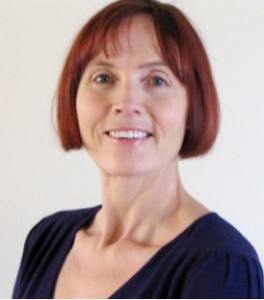 Sunday
Graduation ceremony (more tears and laughter), many good bye hugs, one final organic, vegetarian, fabulous meal, prepared with love by the karma yogis, and it's over. After 200-hrs of training and 4 weeks of immersion in the ashram and yogic lifestyle, I return home to put my learning to practice. Baba Hari Dass wrote a note to each of us: "You go home with the knowledge of yoga. Now the question is what to do with it. 1. Practice it. 2. Share it with others. 3. Teach to learn because learning never ends."
Read Part 1 of Laura's YTT experience.
Laura Harris, MSc is a wellness professional in Saskatoon with over 25 years of experience as an instructor, facilitator, and coach. She is the owner of Harris Wellness Consulting and Hatha Spirit Yoga Studio. For more information about Laura and to find out locations, times, and how to register for her yoga classes, please visit hathaspirityoga.com or call her at 306 292-7534.
For information about the Salt Spring Centre of Yoga's YTT program, visit: