A Sanctuary for Body & Soul

The Salt Spring Centre of Yoga was founded in 1981 by Dharma Sara Satsang Society, and is a working yoga community inspired by our teacher and master yogi, Baba Hari Dass. The Centre's cozy turn-of-the-century farmhouse and studio buildings sit amid 70 acres of meadows, forest and organic gardens on beautiful Salt Spring Island, British Columbia. The Centre is devoted to the attainment of peace through practice and offers training programs including yoga retreats, yoga teacher training and many other special programs.
Our rejuvenating getaway retreat includes two nights accommodation, delicious vegetarian meals and a variety of yoga classes.
Weekends available in 2017.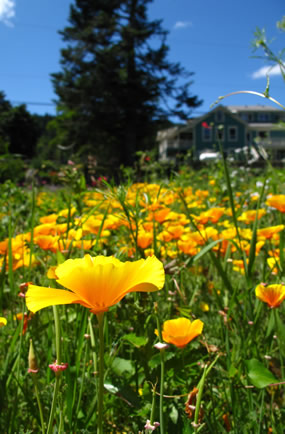 The Centre offers the possibility of short stay personal retreats to enable guests to pursue their individual practice of yoga in a peaceful and beautiful environment shared with a small spiritual community. Learn more here.
News & Updates
43rd Annual Community Retreat
This summer we host our 43rd annual consecutive retreat which continues to be a highlight for many people. There are many, many classes, pranayama and meditation, yoga asana, yoga theory , and a lot of fun events, including the classics like Hanuman Olympics and Latte Da Stage.

Srivani Jade, Hindustani classical vocalist, composer and world musician, will be joined by Ravi Albright, professional tabla artist, instructor and accompanist, starting at 7:45 pm on Sat, Aug 5th.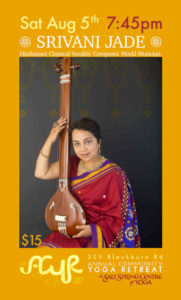 Of course there will be the usual great meals plus a wonderful program for children. Registration is open on our website, with early bird prices continuing till July 8. If you haven't registered yet, do it now!

Enjoy an inspiring yoga retreat within a vibrant community and re-ignite the spark within!
Click below to see the ACYR 2017 schedule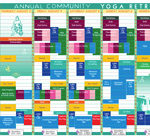 Registration is now only available on-site.
Volunteer & Job Opportunities
Please visit visit the Job Opportunities page for more details.