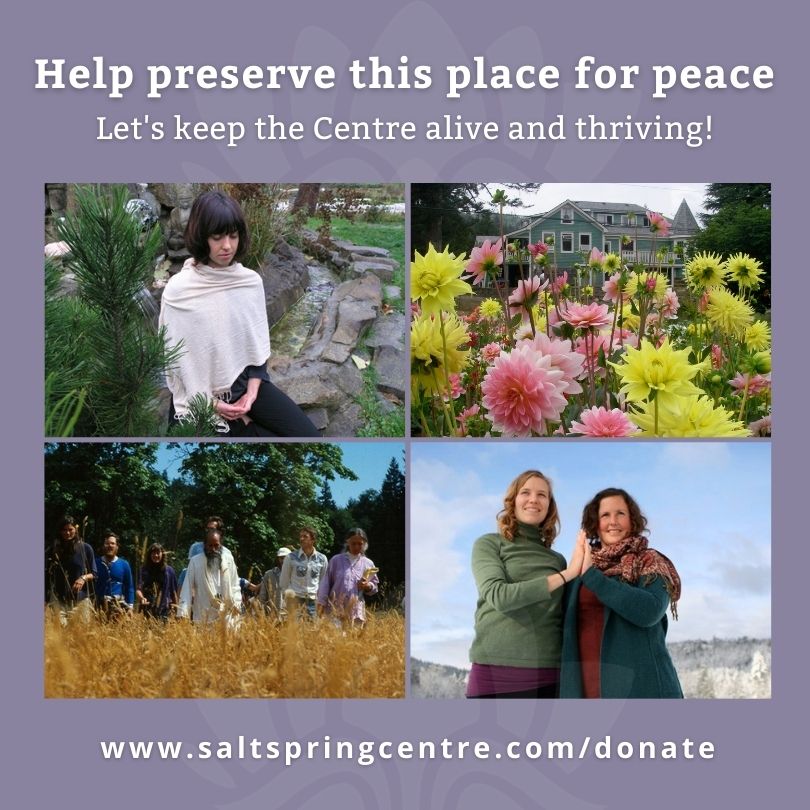 Together we can Sustain the Centre
Dear Centre family and friends,
The Salt Spring Centre of Yoga was built from the ground up with the love and labour of a dedicated community under the direction of Baba Hari Dass.
Work honestly, meditate every day, meet people without fear, and play.
Over the years, the Centre has grown through community, programs, and classes. Every person who comes to the land adds to the collective energy, contributing to the shared vision of a peaceful and energetic environment for study, practice, work, and play.
Now more than ever, we need places like the Centre, which offer intentional space to share spiritual teachings, to live in peace, and to steward our beautiful land. It is a place to restore hope.
Last year's amazing fundraising efforts ensured that the Centre successfully entered the 2023 season. The Centre continues to face ongoing financial pressures, however, they are not insurmountable and together we can be part of the Centre's vision for years to come.
The Board has committed to keeping the Centre in operation on a break-even budget that focuses on a sustainable financial structure, allowing the time needed to reset and rebuild.
For the Centre to deliver the 2023 season and pay back our Canada Emergency Business Account (CEBA) loan in time to qualify for loan forgiveness of $20,000, we need to have another amazing year of fundraising.
In order to make this possible, we need to raise $80,000 by December 31, 2023.
(June 29, 2023) We are currently at 20% of our target. At this time last year, we put out the call to help save the Centre and received an incredible response, raising almost $100,000 by December!
2023 Fundraising Campaign Target – Updated September 13, 2023

Every donation helps, large or small!
Your donation of $10 – 20 per month goes a long way to helping the Centre continue its mission.
We are so grateful for the financial support to keep the Centre alive and thriving!
The Centre provides equal opportunities for all to learn and grow in a shared vision and be empowered to pass that vision on to others. Every person counts, every person who cares about the Centre is the reason why it exists. Near or far, the Centre community reaches around the world, yet comes to fruition in this beautiful place. We are all ambassadors for peace whether serving at the Centre as a karma yogi or sharing the Centre's message in our home communities.
With love, peace, and gratitude,
Anuradha Hannah, Community Director, Salt Spring Centre of Yoga
Clare Cullen, President, Dharma Sara Satsang Society
---
Frequently-Asked Questions
Q: What will the Centre do with the $80,000 raised?
A: $80,000 is the minimum amount required to deliver the Centre's operations for the 2023 year and allow us to repay our $60,000 Canada Emergency Business Account (CEBA) loan in December. If it is paid back by December 2023, $20,000 will be forgiven, reducing the payment to $40,000.
The 2023 operations plan allows us to offer many of our proprietary programs but requires the Centre to make cutbacks in kitchen operations, some programs, and staffing, and to halt most deferred maintenance work.
The $80,000 does not offer any additional funds to return to pre-pandemic-level operations next year, to re-establish our emergency fund, or to weather any unanticipated major expenses.
Q: Why does the Centre need to fundraise again after last year's campaign?
A: Like many other nonprofits, the Centre faced unprecedented financial challenges in 2022, brought on by the lengthy pandemic closures. The $96,924.50 raised in 2022 (of the $120,000 goal) allowed the Centre to meet its minimum financial obligations to complete the season and gave the Board time to better plan for 2023.
The 2023 operational plan and budget were approved with the knowledge that we would need to raise $80,000 through fund development initiatives to break even.
Additionally, as a not-for-profit organization, the Dharma Sara Satsang Society / Salt Spring Centre of Yoga relies, in part, on donations and grants. 
Q: Is the Center raising the $80,000 solely through individual donations?
A: The Centre and DSSS Board is hoping to apply for grant funding to supplement individual donations. However, many grants are project-specific, and will not support on-going operational expenses.
Also, writing and managing grants requires time and a specific skill-set: we would welcome any skilled and experienced volunteers to support this initiative on behalf of the Centre. To volunteer to assist with grant writing, email: board@saltspringcentre.com
Q: I don't have a lot of financial resources right now. How can I help?
         Visit our event calendar for a full list of our upcoming programs and offerings.
Q: Can I get a charitable tax receipt for my donation?
A: The Salt Spring Centre of Yoga is a registered non-profit organization. We do not currently have charitable status and therefore can not issue tax receipts for donations
Q: Who can I contact if I have more questions?
A: Please email info@saltspringcentre.com or call 250-537-2326.