Enjoy an inspiring yoga retreat within a vibrant community and re-ignite the spark within!
Join us for our 43rd Annual Community Yoga Retreat! Connect with new and old friends in this supportive and expansive community. Reflect and renew through the timeless practices of yoga on this beautiful Gulf Island.
Concert
Srivani Jade, Hindustani classical vocalist, composer and world musician, will be joined by Ravi Albright, professional tabla artist, instructor and accompanist, starting at 7:45 pm on Sat, Aug 5th.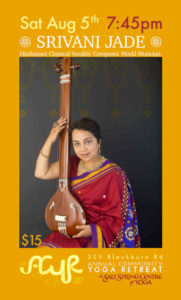 Classes
This retreat focuses on the teachings of classical ashtanga yoga, as taught by Baba Hari Dass. We offer an ideal opportunity for those new to yoga as well as those who wish to rekindle their personal practice. Register early for the best value! In order to ensure the most enjoyable retreat for all of our guests, this popular and highly anticipated event has a limited number of spaces.
Click below to see the ACYR 2017 schedule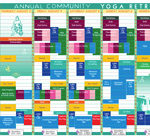 Our experienced and knowledgeable teachers provide systematic instruction in all aspects of yoga from the purifying practices of shat karma (Ayurvedic cleansing techniques) and pranayama (breath work) to the empowering practices of guided meditation and asanas (yoga postures) through to yoga philosophy.
Preview the Salt Spring Annual Community Yoga Retreat Experience
---
Registration is now only available on-site.
Play
There is plenty of time for all ages to play whether it's through devotional music, entertainment or outdoor recreational activities.
Including two years running, an abbreviated version of the ancient Indian epic, the Ramayana.
2016
2015 – 30 minutes
2014 – 20 minutes
Music
This weekend is filled with so much music and song. We feature many evening and afternoon kirtans. Last year we recorded and released an album from the weekend.
Food
Enjoy the farm fresh and tasty vegetarian cuisine for which the Centre is renowned. Our delicious and nutritious meals are prepared lovingly in a serene environment and are often the highlight of our guests' stay.
All Ages
Everyone is welcome to attend the Annual Community Yoga Retreat. For families with children, there is a comprehensive Kid's Program (only for children over 3). Please note that the Kids' Program is only available for children of parents registered in the adult program.
Prices
Getting Here
This Aug 3rd – 7th long weekend, will be a busy time on the ferries. If you are traveling by car or as a foot passenger, we recommend that you make a reservation well in advance by calling BC Ferries at 1( 888) 223-3779. Please click the link below in order to get more travel details.
More detailed travel information here.
Need a ride? Check out the rideshare
For questions, please email the ACYR Committee at acyr@saltspringcentre.com.
"Work honestly, meditate every day, meet people without fear, and play."
~Baba Hari Dass
View our Cancellation Policies
August 3rd-Aug 7th, 2017
Registration is now only available on-site.
Need a ride? Check out the rideshare