Adam Burt's YTT Reflections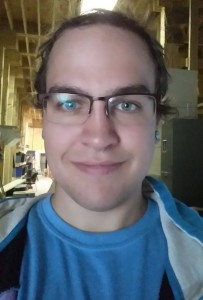 Where do you live? What do you do in your life apart from yoga?
My name is Adam Burt. I live in St. Albert, Alberta. I live a fairly active lifestyle. Apart from yoga, I enjoy cycling, hiking, climbing, longboarding, playing street hockey, and in the winter, snowboarding and snowshoeing. I currently work at a rock climbing gym and teach yoga at several different places.
What motivated you to begin practicing yoga? How did yoga come to be a part of your life?
I began practicing yoga when I was in grade 11. I played rugby throughout high school and always seemed to be incredibly sore from the last game or practice, no matter how much stretching I'd do on my own time. One day while shopping with my mom at Costco I came across a set of Yoga Now DVDs. Having heard very little about yoga, but knowing it involved increasing mobility and decreasing muscle tension, I was instantly intrigued. As soon as I returned home I got on my gym clothes and set up in the living room, having no clue that my life would change forever. That first 50 minute practice incorporated breathing, stretching and mindfulness; three things I'd never imagined could be so connected. After that first practice I was sold. I went out and bought a yoga mat and began practicing on a regular basis. I very quickly began noticing changes in my body and my mind. I was no longer constantly aching and sore. I didn't need to take 3 advil before every game anymore. I felt more alert and aware of my body and my mind. Concentration came more easily and my breath became easier to control.
What attracted you to the SSCY Yoga Teacher Training (YTT) program?
Several years after practicing yoga on my own, I began attending a studio. At this point in time, having watched my only brother succumb to brain cancer and going through a difficult break up, I took my practice to the next level and began going to classes every day, sometimes several classes a day. I believe yoga saved me from slipping deep into depression and self medication. Knowing first hand the benefits of yoga, I began thinking about doing my 200hr YTT to learn how to spread the joy of yoga to others. I knew I didn't want to do my training at home, where there would be far too many distractions from everyday life. Having a strong connection with the West coast, particularly Vancouver Island, I began searching for somewhere to do my training, preferably with a condensed program and as secluded as possible. SSCY was the first site to come up and the more I read about the program the more excited I became. I'd heard a lot about Salt Spring Island but had never actually been there. I knew without a doubt this was where I needed to go for my training.
What aspect of yoga has had the most transformative effect on your life?
Yoga has transformed my life in many ways. It began with a physical transformation. The fitness aspect is what originally drew me to yoga. I learned to release stress in the body, thereby increasing strength and mobility. Once I started attending classes in a studio with a real teacher in front of me, I began to explore other aspects. To be honest, at first I was pretty skeptical about all this talk of 'prana', and the 'Om'-ing and 'Namaste'-ing. But after a while I actually started listening to what the teacher was saying and a lot of it made perfect sense to me and related almost eerily to my life. The spiritual portion of my yoga practice is still relatively new but I am constantly learning more about who I am and what I need to do to contribute positively to the world around me.
Please share some memorable moments- or a favourite moment- from YTT.
My favourite moment at YTT is pretty difficult to pinpoint. I feel like my entire time there was my favourite moment, but if I had to choose, I would say the talent show at the end was a definite highlight. I don't think I've ever laughed that hard before in my life. The bonds that were formed during our training were solidified that last night as we laughed and reminisced about what we'd learned and how our lives had changed.
What can students expect from the yoga teacher training at the Centre?
New YTT students can expect to be welcomed with open arms. Never have I been anywhere that made me feel as welcomed and loved almost instantly. Every person I met there was a kindred spirit and a loving soul. Every instructor had a unique point of view and a wealth of knowledge to share. Any questions I had were thoroughly answered. And to boot, the food was amazing. After my first 2 weeks, having not set foot off of the property, I was sad to leave but excited to take what I'd learned into the real world. Salt Spring Centre of Yoga is truly a second home to me now and I can't wait to return!!!
---
For information about the Salt Spring Centre of Yoga's Yoga Teacher Training offerings, visit: