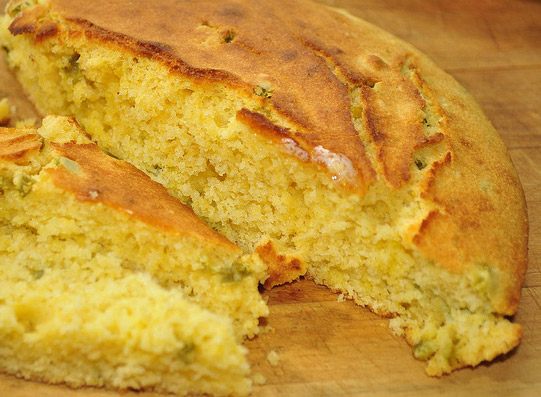 The addition of jalapeno peppers and cheddar cheese means that this cornbread is bursting with flavour.
Ingredients
1/2 cup cornmeal
1/2 cup polenta (corn grits)
1/2 cup flour
2 Tbsp baking powder
1/2 tsp salt
1 cup finely minced leeks
1/2 tsp chili flakes
2 chopped fresh jalapenos, or 4-oz tin chopped green chilies
1 cup grated cheese (cheddar or soy)
2 tsp blackstrap molasses
1 1/2 tsp egg replacer mix with 1 Tbsp of water
1 cup milk or soy milk
Method
Mix dry ingredients together in a large mixing bowl then add the rest of the ingredients.
Transfer the batter into a greased 8″ x 8″ baking pan
Bake at 375° for 40 minutes or until the top is brown and crisp.
Slather with butter while fresh from the oven and enjoy!
(Recipe from
The Salt Spring Experience: Recipes for Body, Mind and Spirit
. If you would like to purchase a copy of our popular book,
contact us
and we'll be happy to send you one!)
—