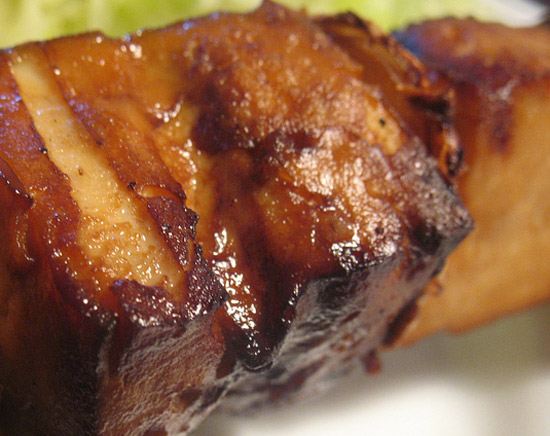 This recipe is so easy and delicious. Try serving it over a steaming bowl of brown rice with a side of crisp, stir fried bok choi or gai lan. Try it tonight!
SERVES 8-10
Ingredients:
2 lb tofu
2 Tbsp olive oli
1/3 cup tamari or Bragg's
Sauce:
1 1/2-2 Tbsp grated ginger
1/2 cup and 2 Tbsp turbinado sugar
1 cup cider vinegar
2 Tbsp tamari
6 oz tomato paste
2 Tbsp arrowroot powder mixed in 1/4 cup cold water
Method:
Cut the tofu into 1/4 inch slices or 1/2 inch chunks.
Brown the tofu in a frying pan with the olive oil and tamari or Bragg's.
Place all the sauce ingredients in a saucepan and bring to a boil, then simmer until the sugar dissolves and the sauce begins to thicken.
Place the tofu in a baking pan and cover it with the sauce.
Bake at 350° for 45 minutes.
Enjoy!
Recipe reproduced from The Salt Spring Experience: Recipes for Body, Mind and Spirit.
If you would like to purchase a copy of our popular book, contact us and we'd be happy to send you one.
Photo by: Stiefen Schlingen